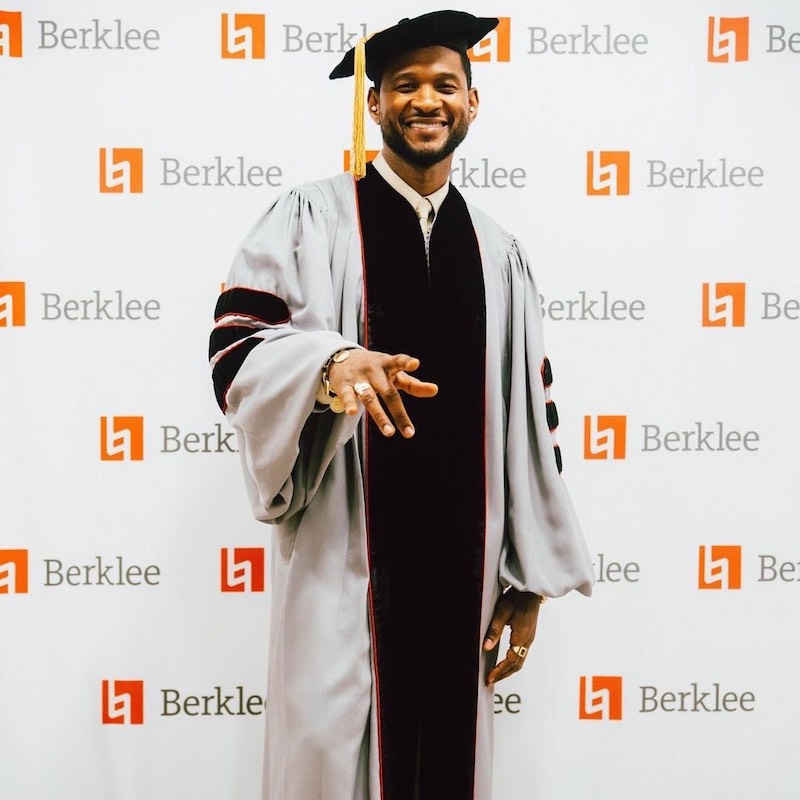 Usher is a man of many titles – singer, songwriter, GRAMMY Award winner, father, King of R&B – and he added another one over the weekend. Berklee College of Music in Boston presented him with an honorary doctorate during their 2023 commencement ceremony. Dr. Usher Raymond has arrived!
The good Doctor of Music and "GLU" singer received this prestigious honor in a class that included legendary singer-songwriter Roberta Flack and Gambian musician Sona Jobarteh. They were both unable to physically attend graduation, but Usher more than made up for their absence.
The night before the ceremony, he attended the annual commencement concert where graduating Berklee students performed selections by this year's honorees. Usher shared some remarks at the show that included a fitting remix of "Nice & Slow."
"They call me D-O-C-T-O-R-R-A-Y-M-O-N-D / Now tell me, baby, what you wanna do with me?" he smoothly rapped to boisterous applause. At the end of the concert, he joined students on stage to close out the show with his song "Without You."
After turning up at the pre-graduation celebration, Usher was up bright and early the next morning for commencement to commence. On hand to cheer him on were Jermaine Dupri, Rico Love, his mother Jonetta Patton, his brother J.Lack, his oldest sons Usher Raymond V and Naviyd Raymond and his partner Jennifer Goicoechea.
During his commencement address, Dr. Raymond shared words of wisdom and encouragement with the graduates, which included LL Cool J's daughter Nina-Symone and Avery*Sunshine's son Evan Menifee.
"Keep running past that finish line [of your goals], break the barriers, identify that spark in you that motivates you to keep going and don't expect everything to be perfect and run smoothly," he said in his speech. "Take what you've learned here [at Berklee], go into the world and make great things."
According to Berklee, "This year's honorary doctorate recipients were celebrated for cementing a place in popular culture as artistic innovators, unique creators and community advocates who continue to connect and inspire global audiences everywhere."
- Advertisement -
Past recipients of honorary doctorates from Berklee include Aretha Franklin, Smokey Robinson, Quincy Jones, Geroge Clinton, Lionel Richie, Lalah Hathaway and Missy Elliott.
- Advertisement -