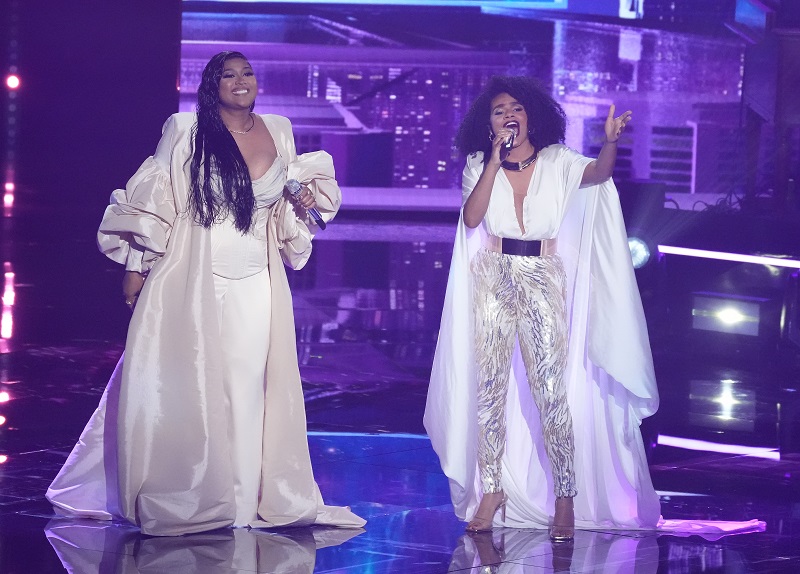 This year's American Idol finale came with the usual star power. Major superstars like TLC, Kylie Minogue, past Idol stars Ruben Studdard and Clay Aiken and many more took the stage. Some were even paired together with contestants from this season. That was the case when it came to Jazmine Sullivan, who was paired with contestant Wé Ani to perform a powerhouse rendition of her signature track "Bust Your Windows."
The song started with Jazzy taking the stage in a flowy, champagne-colored outfit to perform the song's opening verse. She was soon joined by Wé, who matched Jazmine's style with her own caped outfit and sequined pants as she strolled onto the stage with authority. The singer held her own with Jazmine — which is not an easy feat — matching her harmonies with ease and bringing delight to all those watching (even getting an especially giddy smile from judge Lionel Richie).
The performance was a gem in a night full of memorable moments. And although Wé wasn't in the running to be this season's winner after her shocking elimination (the honor instead went to talented 18-year-old Iam Tongi), she can hold her head high knowing that she definitively slayed.
Watch Jazmine Sullivan and Wé Ani come together to bring down the house when you peep their performance below.