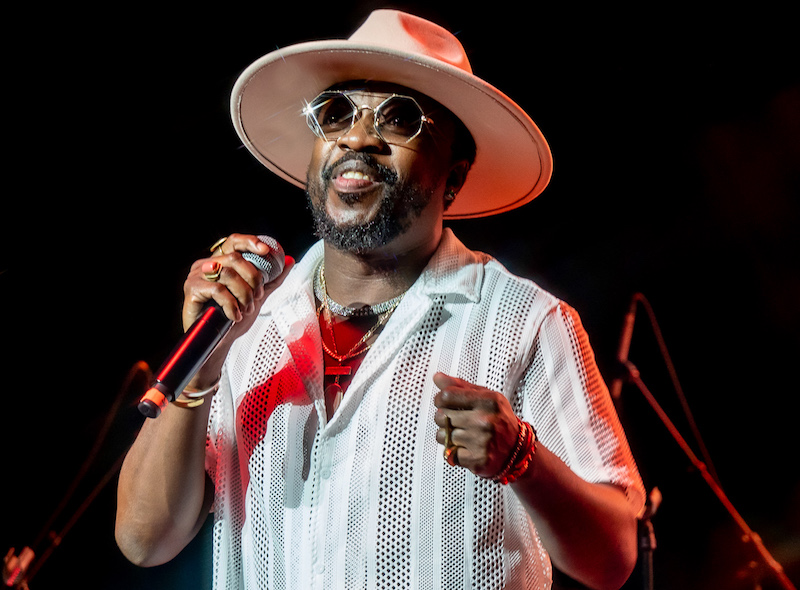 It's going to be a soulful spring and summer if Anthony Hamilton has anything to say about it. The "Comin From Where I'm From" singer is coming to a city near you, and he's bringing The Ton3s – formerly known as The Hamiltones – along on his upcoming tour dates.
AHam's former background singers-turned-standalone artists will reunite with the man who inspired their original name and accompany him on this run. It will be just like old times for 2E, J.Vito and Tony Lelo who toured the world with Hamilton for years.
Anthony's schedule of tour dates features a combination of concerts and music festival performances across the country and even an international stop. The fun commences with a show on May 12th in Rochester, New York before heading to cities such as Chicago, Los Angeles, Detroit, Atlanta, Tampa and Philadelphia.
Hamilton's music festival roster kicks off with an appearance at the Soul Beach Music Festival in Aruba over Memorial Day weekend on May 27th. Fans can also catch him and the fellas at the Steel City Smooth Jazz Fest in Birmingham, Hampton Jazz Festival in Virginia and San Jose Jazz Summer Fest in California, which concludes his spring/summer run on August 12th.
As you'll see below, the Ham Fam has numerous opportunities to see Anthony Hamilton and The Ton3s live over the next few months. And if you know like we know, you'll want to be wherever they are. To ensure that happens, visit AHam's website to purchase tickets for all available dates.
Anthony Hamilton Featuring The Ton3s Tour dates:

May 12 – Rochester, NY – Rochester Broadway Theatre League Auditorium Theatre
May 14 – Lumberton, MS – I H Bass Jr Memorial Airport
May 27 – Aruba – Soul Beach Music Festival
June 1 – Chicago, IL – Chicago Theatre
June 4 – Los Angeles, CA – Saban Theatre
June 8 – Greenville, SC – Peace Center
June 9 – Oxon Hill, MD – The Theater @ MGM National Harbor
June 10 – Detroit, MI – The Aretha Franklin Amphitheatre
June 16 – Winston Salem, NC – Winston Salem Fairgrounds Annex
June 17 – Birmingham, AL – Steel City Smooth Jazz Fest
June 18 – Atlanta, GA – Cadence Bank Amphitheatre at Chastain Park
June 23 – Hampton, VA – Hampton Jazz Festival
July 14 – Augusta, GA – James Brown Arena
July 15 – Columbia, SC – Township Auditorium
July 20 – Tampa, FL – Steinbrenner Field
July 28 – Philadelphia, PA – The Met
August 12 – San Jose, CA – San Jose Jazz Summer Fest
- Advertisement -