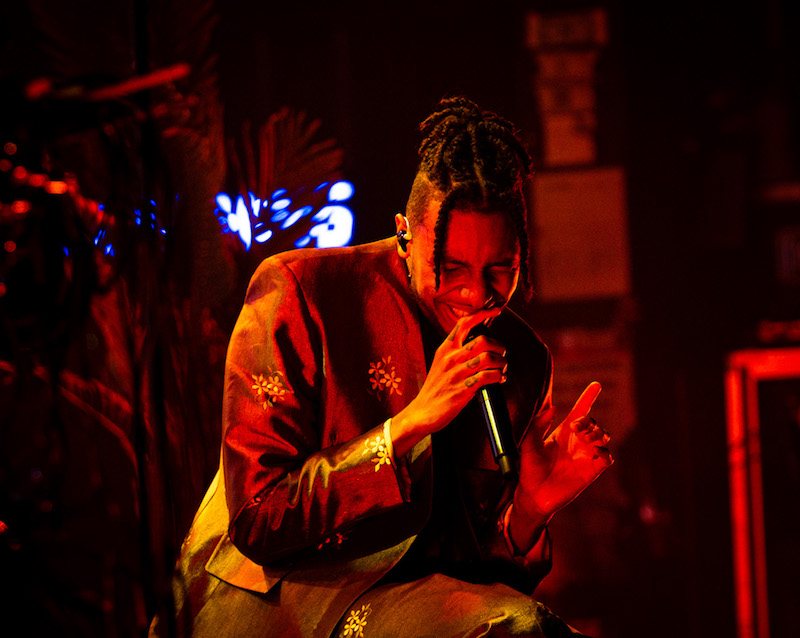 The multi-talented Masego continues to build his impressive catalog while growing a diverse, worldwide fanbase. Last month, he kicked off his much-anticipated North American tour aptly named the You Never Visit Me Tour after one of the singles on his most recent album Masego.
The tour is scheduled to end in late April with two shows in Los Angeles, but this past weekend Masego and his two-piece band blessed his loyal fans in the Washington, D.C. metro area with the first of two shows at The Fillmore Silver Spring in Silver Spring, MD. Both shows were sold out well in advance, which has been routine for this tour.
The night started with an impressive performance by Ogi, and her unique vocals and engaging stage presence got the audience amped up for Masego. About 30 minutes later, the crowd buzzed as the stage lights awakened and the intro to "Navajo," with its catchy sample of The Beatles' classic "Michelle," began to fill the venue, letting those in attendance know it was time to turn up. Masego entered from stage right to a tremendous roar, as he hit the notes perfectly with his saxophone.
Uncle Sego was sporting a custom, rust-colored suit, his trademark braids and some stylish eyewear as he navigated effortlessly between singing and playing his beloved sax. The stage set projected an island-like feel with a collection of plants strategically placed around the stage.
Masego has a vast catalog to choose from, and all told, there were close to 20 songs on the setlist. Most of the show consisted of tracks from his projects Masego, Studying Abroad: Extended Stay and Lady Lady. It is safe to say the hyped crowd was feeling every single song Masego performed. They were absolutely ten toes down for "Old Age" (his cheeky homage to older women with SiR), "Mystery Lady," "Lady Lady," "You Never Visit Me," his Devin Morrison duet "Yamz" and "Good & Plenty," his collab with Alex Isley and Jack Dine.
After performing for close to 70 minutes, Masego exited the stage, but the crowd was simply not having it. They roared incessantly until he reappeared on stage, this time to perform his iconic hit song "Tadow." The crowd sang every word along with Masego, which proved to be a fitting end to an amazing night.
With his immense vocal and musical talents, a Masego show is undoubtedly worth the price of admission. For those of you in the cities where the You Never Visit Me Tour is scheduled to visit next, make every effort to check him out. For more information on Masego and his remaining tour dates, slide on over to his website.
- Advertisement -