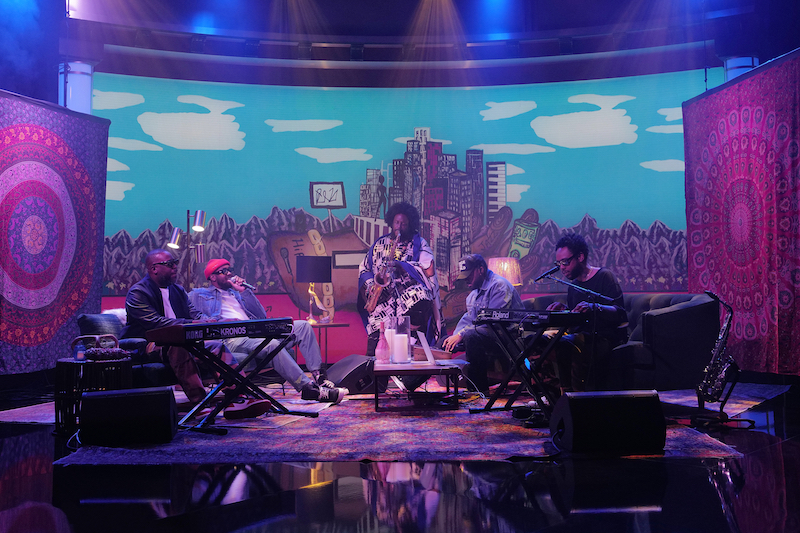 Days after releasing their sophomore album Enigmatic Society and performing during the first weekend of Coachella 2023, Dinner Party made their late-night network television debut on Jimmy Kimmel Live! on ABC. The supergroup made themselves quite at home on Jimmy Kimmel's stage, transforming it into a laid-back living room or cool-ass basement for a performance of their single "Insane" featuring Ant Clemons that had the air of a musician's kickback.
Dinner Party members Robert Glasper, Kamasi Washington and Terrace Martin were joined on stage by Clemons and the song's co-producer Sounwave. Rob and Ant were seated on a couch opposite a couch with Sounwave and Terrace while Kamasi sat perched on a stool between everyone. Behind the fellas were hanging tapestries and an animation of the album cover projected to the rear of the stage.
The performance started with all the musicians playing their designated instruments and getting in tune with one another. Terrace, Glasper and Sounwave were all tinkering on their keyboards and Kamasi played his sax while Ant Clemons nodded his head to the cacophony of sounds. Robert interjected with a few words to segue into "Insane," and the performance only went up from there.
The Mtume "Juicy Fruit"-sampling beat dropped in, and then heads really began to nod. Ant jumped right in to sing the lyrics about a woman who's driving him mad while the players played the seductive groove and Terrace added his talk box touches here and there. Performed during the midnight hour (on the East and West Coasts at least), Dinner Party and Ant Clemons' live rendition of "Insane" was one helluva bedtime lullaby.
Dinner Party isn't done serving up the live jams. They'll return to Coachella for its second weekend with a performance on Saturday, April 22nd. If it's anything like the magic they made this past Saturday with special guests 9th Wonder and Arin Ray, attendees should brace themselves for excellence. The rest of us who won't be at Coachella this weekend will just be stalking YouTube and all the group member's socials for the announcement of a Dinner Party tour.
Get into the greatness that is Dinner Party performing live on Jimmy Kimmel Live! below.