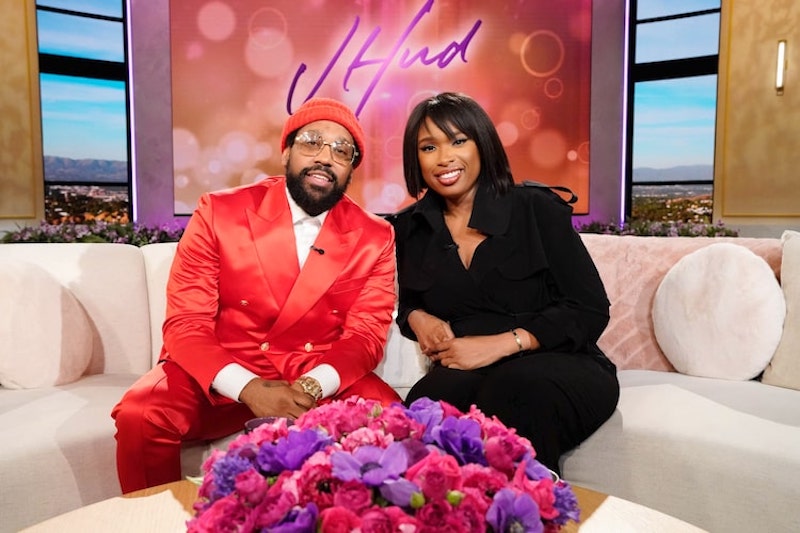 Daytime TV has gotten pretty lit since The Jennifer Hudson Show premiered last fall. Jennifer Hudson has welcomed numerous guests to her "Happy Place" to chat it up with her on her lavish couch or to perform on her expansive soundstage. This week, she invited PJ Morton to her NAACP Image Award-winning talk show to do both. Ever the seasoned professional, Morton rose to the occasion just like the sun for the television premiere performance of his current single "Good Morning."
Before his performance, PJ sat down for an interview with JHud who was excited to have the fellow multihyphenate join her. Their conversation touched on when the two stars first met when he was overseas with Maroon 5 and they all had to evacuate a high-rise hotel together, how he even got to be a part of the group and his origins in the church where his talent was first honed. He shared how his father Bishop Paul S. Morton prayed over his hands when he was little because he wanted him to be a musician and admitted that he never learned how to read music. Bishop Morton's prayers clearly worked!
The convo then shifted to PJ's latest album Watch The Sun. He discussed recording it during the pandemic and satisfyingly stated, "I made my dream album." Hudson gushed over the project, saying, "It gets me through every day." PJ took her excitement about his work as an opportunity to slip in that he wants to get her in the studio to record a little something-something and Jennifer said say less.
PJ had more to say when JHud asked about the song he was going to perform, and he shared the "Good Morning" origin story. The song was born from the original version of "The Better Benediction" before it was reworked for inclusion on Watch The Sun. Fans loved the OG version so much that they applied pressure on PJ to do something with that instrumental and he obliged, giving the people what they want.
After a brief commercial break, PJ got in position to perform "Good Morning" seated at a grand piano accompanied by his duet partner Susan Carol, a three-piece band and two background singers. Golden lights bathed the stage while the screen wall behind them displayed graphics of sun rays and the sun rising. The warm setting mirrored the warmth in the lyrics as PJ and Susan serenaded the studio and at-home audience with their honeyed vocals and sweet nothings.
All PJ Morton live performances are top-notch, and this one was no different. Although we would have loved to have seen them recreate the "Good Morning" music video, which actually featured them performing on a fictional 1960s talk show, PJ and company did what needed to be done and did it well. In case you missed their shining moment when this episode of The Jennifer Hudson Show aired, watch the TV premiere of PJ Morton and Susan Carol's "Good Morning" below.