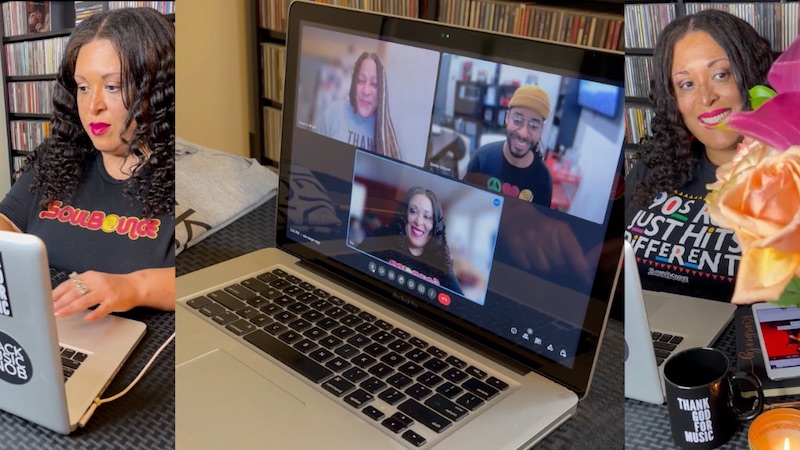 This article is sponsored by Xfinity.
SoulBounce turns Sweet 16 this year. We've partnered with Xfinity to reflect on running a digital magazine from our creation in 2007 to coming out of a global pandemic now in 2023. Besides our passion for all things Black music, culture and artistry, SoulBounce runs on two powerful tools: technology and teamwork.
By 2007, the Internet had morphed into a sophisticated tool for global connectivity. Social networks became popular hubs for community and conversation, and blogs were challenging traditional media to step their game up online. Bloggers were the original influencers. SoulBounce was born during the "Blog Era," when numerous artists turned to online outlets for coverage and to generate a buzz about their music.
The site quickly became a trusted tastemaker and respected source for quality coverage of soul and R&B (with a little jazz, hip-hop, house and gospel thrown in the mix). As one of the original staff members, I have been with SoulBounce since day one in August 2007 and worked my way up from a contributor to Editor-in-Chief to Owner and Publisher.
Under my leadership, the website has flourished alongside many of the artists whose careers we've watched thrive. We've updated the logo, upgraded the website, added a merch store with Shop @ SoulBounce and cultivated a robust social media following.
How we access and cover music has rapidly evolved over the years. The Internet has expanded SoulBounce's music-sourcing capabilities with digital streaming services making an infinite number of songs available to us on demand. Instead of going to a record store to buy a vinyl album or CD, we can stream a new release anywhere in seconds and share our reviews just as quickly.
To reach our audience SoulBounce has to be connected 24/7/365, which means that as its publisher, I've got to be connected 24/7/365. Xfinity has been there since day one, and their reliability and adaptability has kept SoulBounce connected to a world of music. Xfinity is not only my Internet provider, but they are a part of the team.
View this post on Instagram

- Advertisement -
- Advertisement -
Teamwork makes the dream work at SoulBounce, and I work with a crew of talented individuals from various locations who've become friends and family. Susan Wright, our Director of Operations and Lifestyle Editor, tackles logistics, media access, partnerships and operations for both SoulBounce and Shop @ SoulBounce. Donte "D-Money" Gibson, our Senior Editor, is a critical member of Team SoulBounce. Living out his dreams in NYC, he has co-managed daily workflow, editing and publishing on SoulBounce for over a decade. Contributing Writers Ivory Jones and Dr. Karima "EatsBeatsNLife" Kendall round out the current writing staff with their brilliance, and our resident DJ, dj harvey dent, keeps us moving with his mixes.
One of the greatest challenges we've faced was when the world shut down in March 2020 because of the Covid pandemic. Xfinity was our digital lifeline during the lockdown and enabled us to smoothly pivot when we had to move 100% of our operations online. We were unable to travel or physically attend concerts or events to gather content because of stay-at-home orders. However, we watched artists perform from their homes or studios, and we partied in our living rooms like we were back in the club with our favorite DJs live-streaming from their kitchens or dens during quarantine.
- Advertisement -
The Internet and music brought people together during the pandemic and allowed us to connect with like-minded music lovers from around the world. As we all rode out quarantine together from afar, long-time and brand-new "SoulBouncers" – as we refer to our fans and followers – kept SoulBounce thriving with their visits to the site and supported our merch store with their purchases leading to record-breaking sales.
As SoulBounce looks back at what we've done and where we've been, we look ahead to what's to come for the site. Shout out to Xfinity for keeping us plugged in all of these years, so SoulBounce can be the plug for what's new, what's now and what's next for another Sweet 16.
- Advertisement -