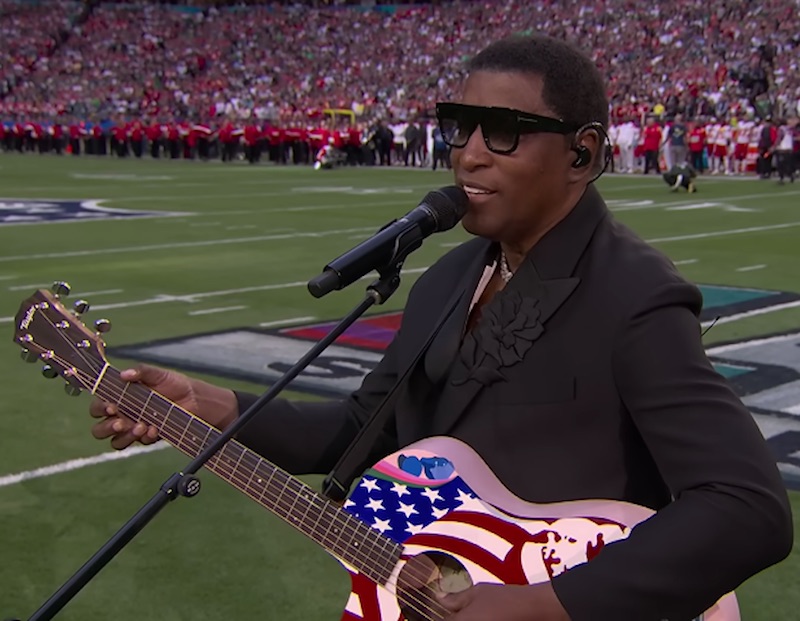 Babyface is a living legend who is living in abundance. In between attending the GRAMMY Awards, releasing his new single "As A Matter Of Fact" and joining Anita Baker's The Songstress Tour, the booked, busy and very blessed multihyphenate found the time to perform at Super Bowl LVII. Babyface was booked to sing "America The Beautiful" and truly blessed us with his performance.
The "Whip Appeal" singer was one of three artists to appear during the Super Bowl pre-game show, which featured Sheryl Lee Ralph singing "Lift Every Voice And Sing" and Chris Stapleton covering the National Anthem. After those two vocalists blew the roof off, Babyface opted for a more chill approach to "America The Beautiful."
Babyface stood on the field with only his custom-painted acoustic guitar draped on him. He was dressed in a fashionable black suit and accompanied by two cameramen who got closeups of him and his vibrant guitar as he played.
The always cool crooner sang "America The Beautiful" like a soothing lullaby for the first verse before the song increased in intensity on the second verse with more instrumentation and his recorded background vocals added to the mix. Babyface's live vocal matched the song's new energy and remained at that level until his big finish to plenty of applause.
To see even more of Babyface live, treat yourself don't cheat yourself with tickets to see him on tour with Anita Baker throughout the year. Stay locked in with us for all of Babyface's many music moves because we have a feeling that he's only getting started for 2023. Watch his excellent performance of "America The Beautiful" at Super Bowl LVII below or on YouTube.