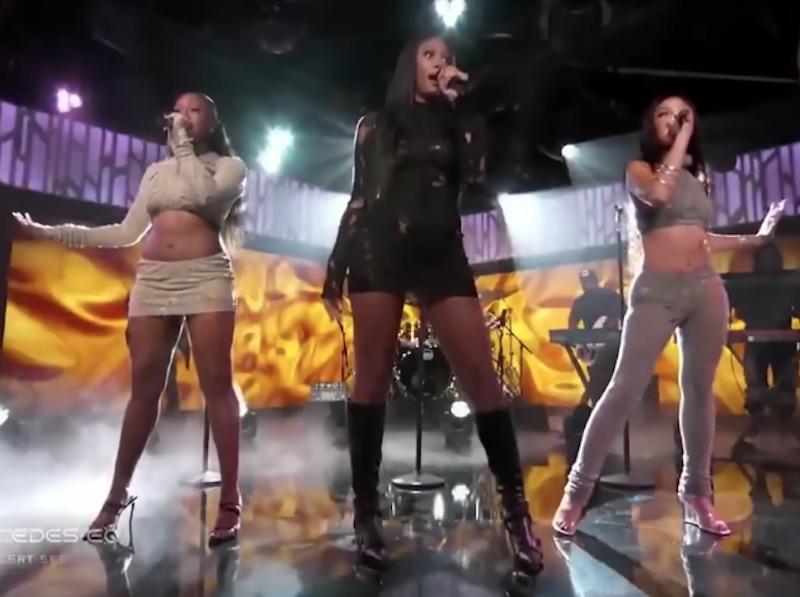 R&B trio FLO has arrived. On U.S. shores, that is. The British babes recently crossed the pond and landed in Los Angeles where they made their television debut on Jimmy Kimmel Live! with a live performance overnight. Instead of performing their new single "Not My Job," however, the young divas decided to reach back to their first single "Cardboard Box," the very song that put them on everyone's radar.
Stella Quaresma, Jorja Douglas and Renée Downer have kept us grooving for most of 2022 off the strength of their music that captures that '90s R&B girl group feel and sound that we've been yearning for. They've already had us hooked, but their appearance on Jimmy Kimmel Live! sealed the deal that these ladies are our new faves.
The group members each took turns singing their parts on "Cardboard Box," with Stella kicking things off followed by Jorja and then Renée. Backed by a live band, there was no lip-syncing or vocal trickery to be found here. Their three microphones were on, and their live vocals sounded good for their solo sections and soared on their harmonies. They added in some key changes, ad-libs and even some choreography to make this showing a smashing success.
They say you never forget your first time, and FLO delivered an unforgettable performance for their first time on television that only makes us eager to see more of them on screen. Watch the girls in action below.