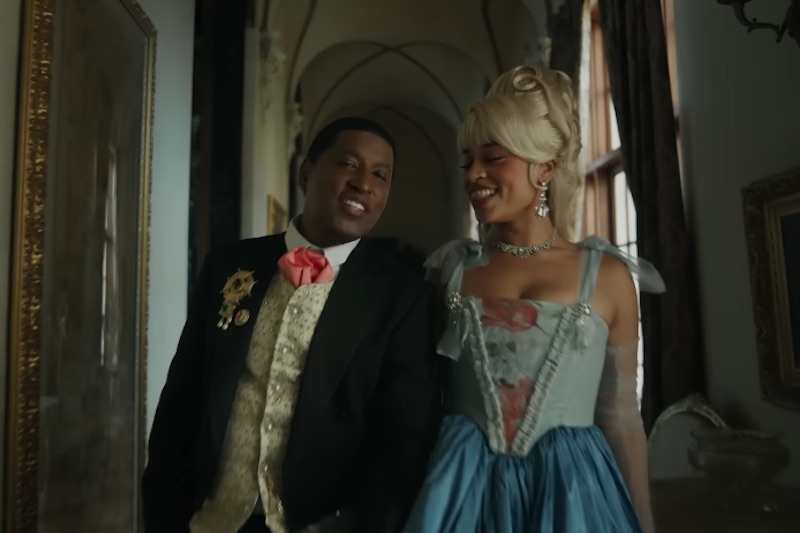 Babyface and Ella Mai took us to '90s R&B territory with their single "Keeps On Fallin'," but they've decided to roll the clock back even further for the music video. Taking their cues from the hit Netflix series Bridgerton, Face and Ella throw it back to early-1800s Great Britain to bring us a tale rooted in the Regency era.  
The visual was directed by Ava Rikki and shot on location at the historic Villa De Leon in Malibu, CA, which serves as a very posh setting for a regal dinner party. The singers are guests of their co-stars actress/comedienne Tiffany Haddish, who plays the queen mother, and actor Kendrick Sampson in the role of her son the prince who is courting Ella. 
The clip begins with a string quartet being conducted by Duke Babyface. Much like Bridgerton's use of contemporary music in the period piece, the musicians are playing Tevin Campbell's "Can We Talk" to entertain guests arriving at this lavish affair.
In the next scene, we see Ella Mai and two friends as they finish getting ready for the festivities. Everyone is dressed in attire suited for that era, including wigs, ornate gowns and corsets. Ella sings her verse while she admires herself in the mirror and walks the hallways of the glorious mansion. By the time we get to the chorus, she bumps into Babyface who reassures her during his verse that she is worthy to be loved and treasured. 
With everyone gathered together and seated at the grand dining table, Haddish enters to steal the show as only she can. She's definitely feeling a buzz as she drinks too much champagne and announces the courtship of Ella Mai and the prince. At one point, she reverts from her British accent to her real voice, to the amusement of those at the table. 
Ella and Kendrick reach for a roll at the same time and sparks fly as they touch. We then get a brief fantasy sequence of the couple sharing some private time and dancing the night away before she snaps back to reality.   
The video for "Keeps On Fallin'" isn't what we expected, but it's cute as you'll see below and we love how it turned out. This visual and the recently released Kehlani-featuring single "Seamless" have us hyped up for the release of Babyface's next album Girls Night Out on Friday, October 21st. It is clear he still knows the formula for great R&B that keeps us falling in love.  
- Advertisement -