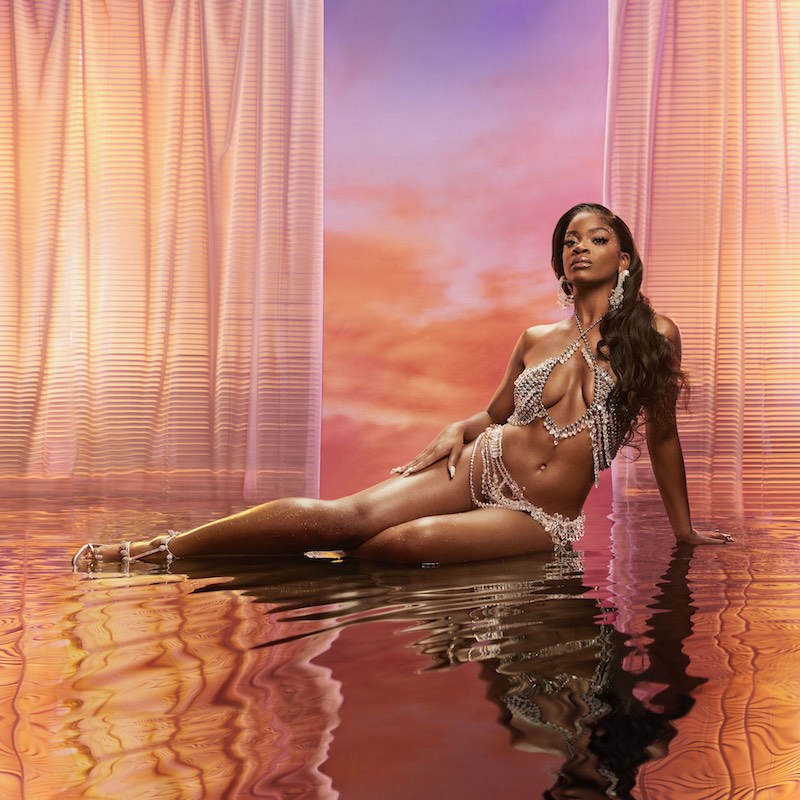 Ari Lennox has solidified herself as one of the most consistent voices in contemporary R&B. After charming us with her major label debut, Shea Butter Baby, in 2019, and her shockingly good surprise EP Away Message, she returns with her latest album, age/sex/location, and there is no sophomore slump to be found. What we do find, however, is a woman navigating her way through dating, sex and situationships on the way to finding herself. Ari does this in a very relatable way over the course of a dozen dazzling songs.
Listeners get a front row seat to the dramatic comedy that is Lennox's love life on age/sex/location. The road to finding Mr. Right is filled with a lot of Mr. Right Nows and Mr. Wrongs, and she has to kiss a few frogs along the way. Ari begins the album with a jazzy tale about some of the toads she's encountered on "POF." Cleverly named after the abbreviation for the dating app Plenty Of Fish, the song is a hilariously sad rundown of the cast of characters trying to get at her.
After rebuking those demons, she finally meets someone who catches her attention and has her wanting to lay it low and spread it wide on "Hoodie" and "Waste My Time." After she gets him out of that hoodie and into her bed, it's on and popping as she applies some healthy "Pressure" with the album's hit lead single.
That soulful bop segues into the intoxicating neo-soul number "Mean Mug" where Ari finds herself on the verge of entering into an entanglement. She's more than friends with a man, but despite their connection, she refuses to play the role of side chick when she wants to be his leading lady.
Lucky Daye helps to take Ari's mind off of Mr. Wrong on the song "Boy Bye." He pulls up and kicks his game to her, and they proceed to exchange flirtatious banter throughout the poetic lyrics. Their back-and-forth conversation is at times lighthearted, at others comedic and oh-so-real.
Ari goes from saying "Boy Bye" to begging her boo to "Stop By" to break her off. She's feeling herself after getting some of that good-good and is ready to go hang with her girls on the sexy romp "Outside." After turning up the volume and tempo a tad, she slows things all the way down on "Leak It."
By far the sexiest song on age/sex/location, Ari is joined by Chlöe on "Leak It." They are mesmerizing together as they set a seductive scene for a little home movie action of the sex tape variety. They steam things up and give their lovers award-worthy performances.
That bedroom bliss is short-lived when Ari has to protect her peace and cut a dude off on "Blocking You." She lays it all out on the song, but in case he didn't get the message, she concludes her missive and the album with "Queen Space" featuring Summer Walker. She finally knows what she needs and isn't accepting anything less than what she deserves.
- Advertisement -
If Shea Butter Baby was Ari Lennox's coming of age, age/sex/location is her sexual revolution. Now in her early 30s, Ari has a better grasp of who she is and what she wants in a partner or a paramour. That's growth, and she's on her grown woman ish. We love that for her.
"This album is the transitional space before my current eat pray love journey," is how Ari described the album, referencing Elizabeth Gilbert's 2006 memoir Eat, Pray, Love (which was adapted into a feature film starring Julia Roberts in 2010).
- Advertisement -
Ari Lennox is still becoming Ari Lennox, and we cannot wait to hear her evolution. Although her love life might be a bit of a rollercoaster ride, her music career is going nowhere but up. With her second excellent album from start to finish in the books, it's safe to say that Ari Lennox doesn't miss and cannot lose.
Ari Lennox age/sex/location [Amazon][Apple Music][TIDAL]
- Advertisement -
- Advertisement -