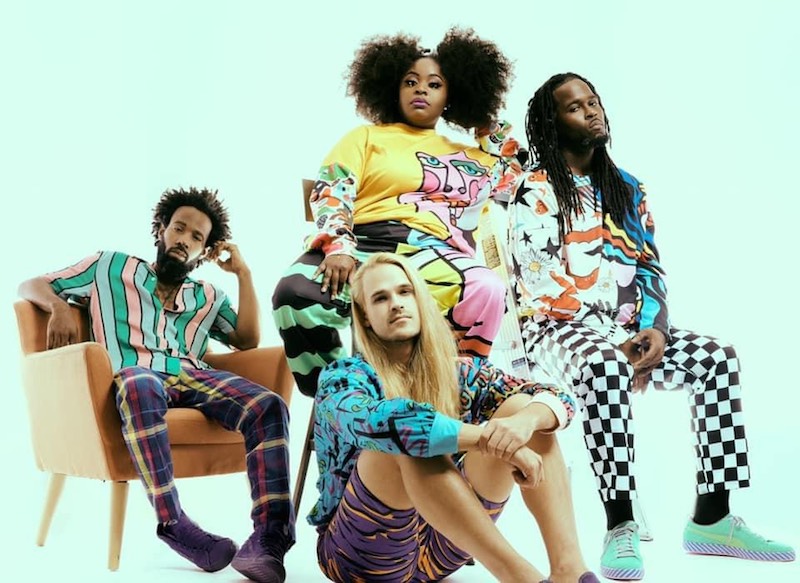 Tank And The Bangas have been more than generous with their fair share of releases leading up to their much-anticipated album Red Balloon. The latest bop to come from the project is the song "Oak Tree," and it should come as no surprise that the band showers us with more brilliance on their newest single.
The song's lyrics start with a number of uplifting pronouncements full of imagery and power. "You my oak tree, you my misbelieve / You my collard green, you the song I sing / You the front porch, you like a green lawn / You a sweet hello from my first love," Tank sings on the chorus, which opens the track.
However, the refuge sought in the opening is quickly interrupted when intrusive thoughts creep in, attempting to steal any semblance of joy and comfort. The happy feelings of the chorus are replaced by reminders of the overwhelming amount of stress and strain we face on any given day in the verses. The chorus resurfaces to center us, but the subsequent thoughts return.
More than halfway through the song we are met with a knocking trumpet, amplifying the combatting thoughts. The song ends in a declaration that feels parallel to a confession with the chant, "Everybody wanna know what God taste like / Everybody wanna know what God look like / Everybody wanna know if heaven's nice / Everybody wanna know what heaven's like."
In the animated lyric video for "Oak Tree," the band colorfully illustrates the ideas and images that unwantedly pop into our minds as a result of the pandemonium of our world today. There is a vivid illustration of the battle of the mind, toggling between the reality of what is and the affirmations we speak to keep us afloat.
TATB also dropped a dynamic live performance video of the song recorded at a backyard jam session to welcome its arrival. While the band jammed, Tarriona "Tank" Ball brought the dichotomy of "Oak Tree" to life, softly singing the chorus before roaring through a bullhorn to deliver the verses to emphasize the song's inherent chaos.
"Oak Tree" is the fifth single to be released by the New Orleans-based unit from their forthcoming set Red Balloon. The track follows the empowering single "Black Folk" featuring Alex Isley and Masego, "Why Try," "Stolen Fruit" and "No ID."
Red Balloon isn't scheduled to drop until Friday, May 13th, so there's no telling what else Tank And The Bangas may gift fans with between now and then. In the meantime, listen to "Oak Tree" and watch both its stunning lyric visual and live performance video below.
- Advertisement -