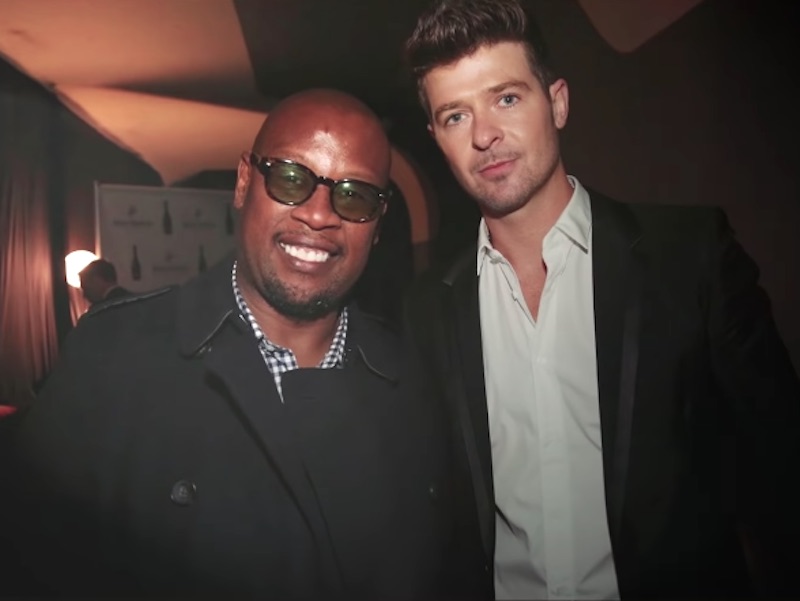 We are weeks away from the two-year anniversary of music executive Andre Harrell's unexpected death in May 2020. After Harrell's family, many of those who were enormously affected by his passing were his friends and colleagues. In that number is Robin Thicke who poured the pain of losing his long-time homie into the surprisingly upbeat song "Day One Friend" featuring Rapsody. Although he didn't namecheck Harrell in the lyrics, Thicke makes it clear who the track is about in its music video.
The "Day One Friend" visual features a collection of photos and videos of Robin Thicke and Andre Harrell from back in the day through recent years. The images span their over 20-year friendship and show their brotherhood, in addition to there being solo flicks of the fellas. The home videos incorporated into the clip show previously unseen footage of Thicke and Harrell, including of them hanging in the studio.
There are no current photos or videos included of either Robin or Rapsody in the "Day One Friend" music video. This visual is a total walk down memory lane that is guaranteed to give you all the feels as you think about your own day ones, especially those you may have lost without getting a chance to say goodbye.
Watch Robin Thicke's "Day One Friend" below and raise a toast to Andre Harrell's memory.