We're convinced that Coco Jones never sleeps. The girl stays booked and busy. The singer, songwriter and actress has recently been spotted some of everywhere. We've gotten to see her chopping it up on The Real daytime talk show, freestyling on Sway's Universe, kicking it with her Bel-Air castmates on Tamron Hall, co-hosting the red carpet at the ESSENCE Black Women in Hollywood event and bantering with her celebrity bestie Terrell Grice on The TERRELL Show, where she also delivered a jaw-dropping performance of "Caliber."
After successfully wrapping the first season of Bel-Air where she plays the reimagined Hilary Banks, she was immediately catapulted into hitting the road to promote the single, making the past few weeks action-packed for the rising star. So, when we here at SoulBounce say we were grateful to get one exclusive evening in Coco's presence, we mean it. We were fortunate to be invited to a private event in Atlanta, Georgia this past Thursday night, hosted by her label Def Jam Recordings in conjunction with Atlanta's very own Media Girls Network and Route Runna Management.
The curated meet and greet took place at an undisclosed location where various reporters, journalists, bloggers, publicists, photographers and influencers all gathered and eagerly awaited the triple threat's arrival. Drinks were flowing and every song DJ XO was spinning just seemed to hit while songs like Saweetie's "Tap In" and BIA's "Whole Lotta Money" played in the background. Atlanta's hottest tastemakers filled the room and made their way around to mix, mingle and chat among themselves while they highly anticipated Coco's entrance. Hosts Krystal Garner and April B. warmly greeted everyone to assure we all felt welcomed and embraced.
As soon as the bass to "Caliber" dropped, the room buzzed as the person we all came to see, the woman of the hour gracefully sashayed into the room all smiles. She was just as thrilled to be there as everyone was to see her. As she strolled from the red carpet where countless camera lenses quickly flashed, she made her way over to a plush canary yellow armchair where she would be seated as the guest of honor for the night.
When the mocha diva approached her seat, she continued to smile and wave attempting to make eye contact with everyone in the crowded room that she could. After taking in her surroundings, Coco took her seat next to the first of what would be four interviewers for the night to give us the tea on the whirlwind that has been her life lately between being cast in Bel-Air, her burgeoning music career, musical influences and the importance of representation. 
Despite Coco's rapid speed to this newfound stardom since her child acting days on Disney years ago, the glittering star remained the humble and approachable girl next door. Coco's rise is taking off at lightning speed, but it doesn't prevent her from cracking jokes, making goofy faces, talking in silly accents or impersonating her faves. She could honestly add comedian to her resume. It wasn't long before the jam-packed room of media personalities felt more intimate and personal as the lively performer made everyone in the room feel more familiar with her through her warm and inviting personality. 
When asked about the video for the single "Caliber," Coco stated that she'd begun to work on a concept for it but scratched it completely, "I literally started from scratch because I feel like y'all deserve the best of the best. Y'all have been patient with me, y'all have been rocking with me, y'all were still talking about me when there was nothing to talk about."
The leading lady went on to say she is doing her best to honor her fans and their patience with this project along with the EP scheduled to drop this summer because everyone has waited such a long time for this. When asked who she is currently listening to, Coco rattled off some SoulBounce faves. "I love Summer Walker, SZA, Alex Isley, Jazmine Sullivan – she just won that award the other day and that's on period because she is an icon and she deserves her flowers and they took too long," she shared. When asked about artists whom she'd like to work with in the future, Drake, Beyoncé and Megan Thee Stallion topped the list. She also spoke about loving jazz and named Nina Simone and Shirley Horn as influences. Coco likes to listen to not only what is current but also music of the past because she recognizes that artists from back in the day helped everyone get to where they are today.
- Advertisement -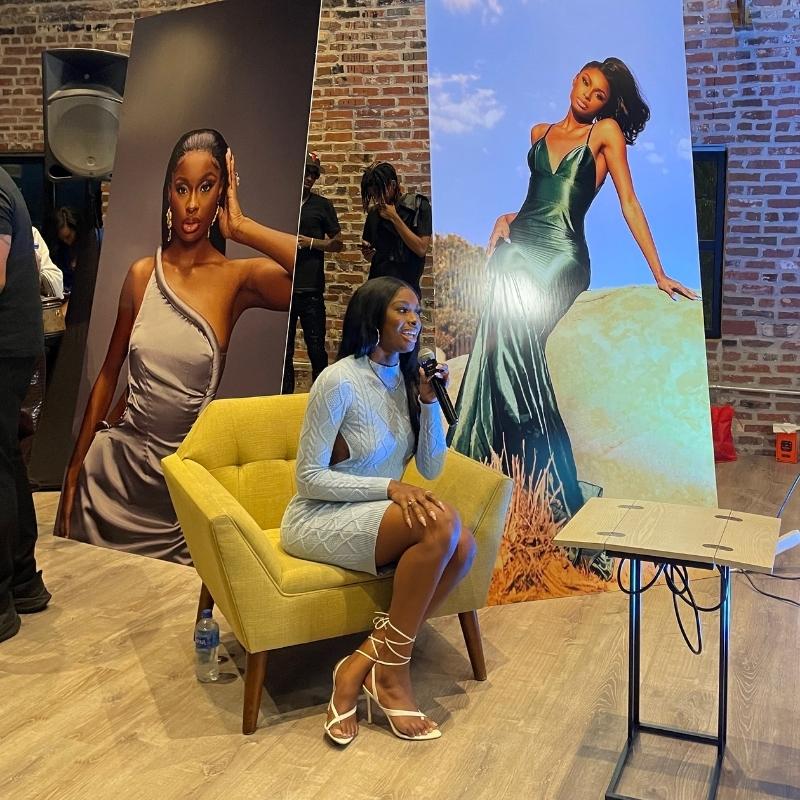 Coco candidly spoke on struggling with limiting beliefs around getting the role of Hilary on Bel-Air. She initially felt she was not a good fit and was surprised when she found out she got the role. She didn't even want to audition because she didn't think that she as a dark skin Black woman was what they were looking for, but she is honored to represent in this way. 
The four different interviewers rotated in and out of the seat next to Coco as they each got their turn to moderate the conversation with her. One interviewer asked if she felt the representation was a burden for her or badge of honor. Coco's response was she is glad to represent because this is something way bigger than her and she is honored to get to represent dark-skinned women. Viola Davis, Gabrielle Union and Kerry Washington were named as acting influences and she said that she looks up to creatives like Shonda Rhimes and Issa Rae for creating opportunities because creating opportunities for Black creatives is as important as executing them.
- Advertisement -
Jones credits her team at Def Jam and her management with High Standardz for a lot of her success. She expressed gratitude for them putting her in rooms with R&B heavy hitters such as Rodney Jerkins, Eric Hudson and Bongo. When asked about her music and how to describe it she detailed it as, "With my music I want people to take away that like I'm really, I'm really the girl next door. I'm not really with that rah-rah, I'm just here to like turn up with my girls, look cute, have some music I might twerk a little bit to and then have some songs I might need to cry in the club to. I want people to listen to my music and be like 'Oh my gosh, she's just like me, she totally gets it' because I do feel like I'm really regular."
Words of inspiration Coco left us with towards the end were, "Things may not always be in the timing that you want, but when it's your time, it's really yours. Don't stop until you get to those moments. And keep going once you get to those moments."
- Advertisement -
Coco Jones was more than generous with her time, sharing facets of her life from the first few eventful months of her year in profound detail. She was sincere, entertaining, comical and endearing. As her manager approached her, she looked up amazed that her time was up and the evening was coming to a close. Coco graciously thanked everyone for their time and expressed her appreciation to all who showed up for her that night.
As she rose from her seat, several media representatives attempted to bulldoze their way to the front of the room to approach her for pictures, peppering her with more questions. But within the blink of an eye, the illustrious singer was swiftly whisked away by security. As her security detail maneuvered her away from the crowd, Coco gazed over her shoulder and charmingly waved goodbye. A real class act Coco Jones is. We believe her humility and candor will take her far. Stay tuned, because she really is the next big thing. 
- Advertisement -