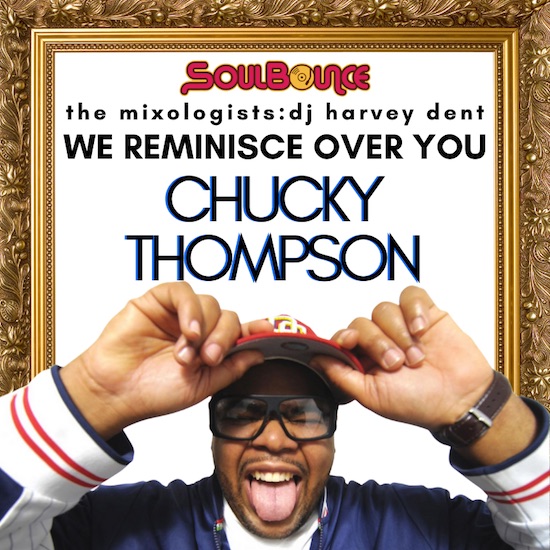 2021 was another brutal year for the music industry with the loss of far too many talents. One such was producer Chucky Thompson, one of the architects of Black music in the 1990s. He had a hand in crafting music across the genres of Hip-Hop Soul, '90s R&B, Hip-Hop and Go-Go – the sound of his hometown Washington, D.C.
Our resident Mixologist dj harvey dent returns to pay musical tribute to Chucky with his first mix of 2022, We Reminisce Over You: Chucky Thompson. This mix traverses Thompson's career with productions that he did for Faith Evans, Usher, Total, Raheem DeVaughn, The Notorious B.I.G., Chuck Brown and, of course, Mary J. Blige, who he worked extensively with on her iconic My Life album. dj harvey dent does what he does best, expertly blending and mixing his hand-picked selections with ease.
Chucky Thompson may be gone, but his productions will live on forever. Play dj harvey dent's We Reminisce Over You: Chucky Thompson and join us in remembering and saluting this unsung legend who's gone way too soon.
Faith Evans - Mesmerized
Mary J. Blige feat. Smif-N-Wessun - I Love You (Remix)
Usher - Think Of You
Total - No One Else (R&B Remix)
New Edition - Try Again
Total - Someone Like You
Faith Evans - You Used To Love Me
Raheem DeVaughn - Woman
Mary J. Blige - Mary Jane (All Night Long)
Mary J. Blige - I'm The Only Woman
Faith Evans feat. Queen Latifah - Ain't Nobody (Who Could Love Me) (Puffy & Chucky Remix)
Mary J. Blige - I'm Goin' Down
Faith Evans - Soon As I Get Home
Jadakiss feat. Ann Nesby - Keep Ya Head Up
The Notorious B.I.G. feat. Lil' Cease - Can I Get Witcha
Lil' Mo - Dem Boyz
Mary J. Blige - You Bring Me Joy
The Notorious B.I.G. - One More Chance
Chuck Brown - Chuck Baby
Rare Essence feat. Snoop Dogg - Hit The Floor
Shyne feat. Barrington Levy - Bonnie & Shyne
Craig Mack feat. The Notorious B.I.G., LL Cool J, Busta Rhymes & Rampage) - Flava In Ya Ear (Remix)
The Notorious B.I.G. - Big Poppa
Emily King feat. Lupe Fiasco - Walk In My Shoes
Mary J. Blige feat. Lauryn Hill - Be With You (Remix)