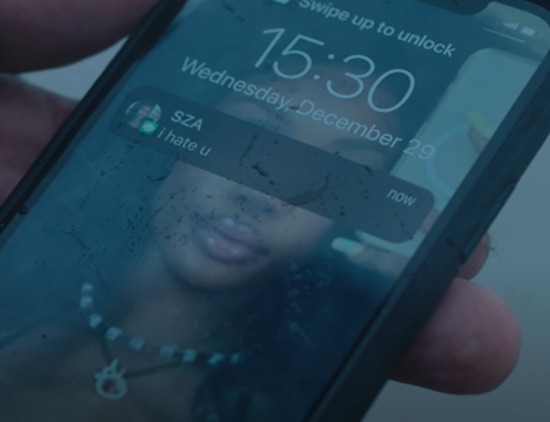 People are loving SZA's "I Hate U." Originally, it was part of a set of unreleased tracks the artist shared last August to keep fans happy until her oft-delayed sophomore album was released. Now, after an official release at the beginning of December, it's her latest hit. To keep the buzz going, SZA has shared a visualizer for the track, starring actor LaKeith Stanfield.
In the clip, LaKeith is on the phone having a heated argument with SZA, who doesn't make an appearance in the video besides her face on his iPhone screen. The clip opens with a sweeping aerial shot over a beach on a rainy day. Director Jack Begert's camera lands on a car parked in an empty lot. LaKeith steps out of the vehicle mid-rant and has a volatile conversation with the person on the other end of the call, who we assume is SZA. LaKeith takes a walk down to the beach to clear his head and have a smoke. We soon get confirmation that it was SZA he was arguing with when he gets a text that reads, "i hate you," from her. Ouch. That triggers LaKeith, and the gripping clip ends with him throwing the phone in the drink.
While this could have easily been the official video, the visualizer sets us up for more with the words "Not The End" appearing on a black screen. On Instagram, SZA refers to this as "Part 1," so we look forward to the next visual chapter.