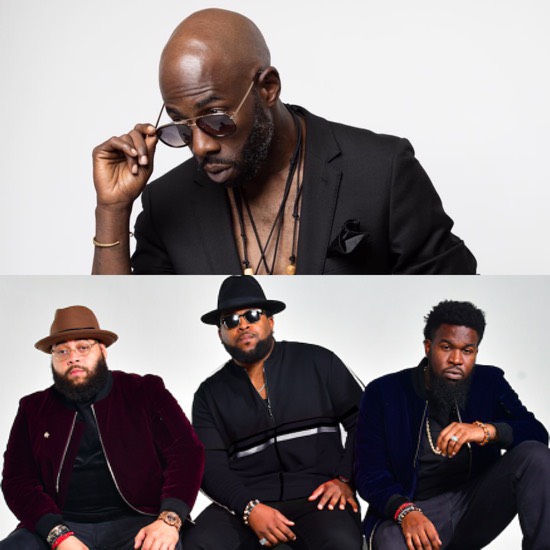 Artists are masters at reinventing themselves. Whether it's something as simple as changing their style (see: Ari Lennox's recent glow up) or as complex as their whole persona (see: H.E.R. aka the artist formerly known as Gabi Wilson), sometimes artists need to switch things up to level up. Producer/musician Bee Boisseau is looking to do just that with a name change to Bee Boy$oul (pronounced "Boy-Soul"). With this slick new moniker, the Richmond, Virginia-born/DMV-based creative is readying the release of his official debut album, Raheem DeVaughn Presents Bee Boy$oul's Back 2 Love, and gives fans another sample of the project with the new single "Sugar Love" featuring The Hamiltones.
Bee Boy$oul may have updated his name, but the quality of his music hasn't changed as evidenced on "Sugar Love." He lays down a soulful sound bed of piano, guitar and percussion for Vito, Tony Lelo and 2E to do what they do best. The fellas bring their A game as usual with velvety vocals, gospel choir-tight harmonies and luscious lyrics. "You've got that sugar love / Girl, your love is so sweet," The Hamiltones croon on the chorus, but they serve up a healthy portion of sweet talk throughout the song that's mixed with equal parts sincerity and sensuality.
Produced by Bee and co-written alongside The Hamiltones, he refers to "Sugar Love" as, "One of my personal favorites on the album," via press release. He also went on to show love to the trio, calling them, "An undeniable singing force whose harmonies warm the ear as well as the heart," which is fitting since "Sugar Love" ends with a heartbeat-like drum pattern on its outro.
"Sugar Love" is one of 10 tracks that will be found on Bee's album. The project also features the first single, Raheem DeVaughn's "Mr. Midnight (Winter Time Remix)," and previously released tracks "N.F.L." featuring The CrossRhodes and Vandell Andrew, "A Lovely Day" featuring Eric Roberson, "Wanna Be (Where You Are)" featuring Carmen Rodgers and "D.R.I.L.Y." featuring Radio B and Fan Ran. Additional guests on the album include Dwele, YahZarah and Wes Felton.
Raheem DeVaughn Presents Bee Boy$oul's Back 2 Love will be independently released on the New Era Soul/MrBawsaw Music & Media Group label under exclusive license to SRG Records on Friday, January 21st. The album is currently available for pre-order on Bandcamp.
- Advertisement -