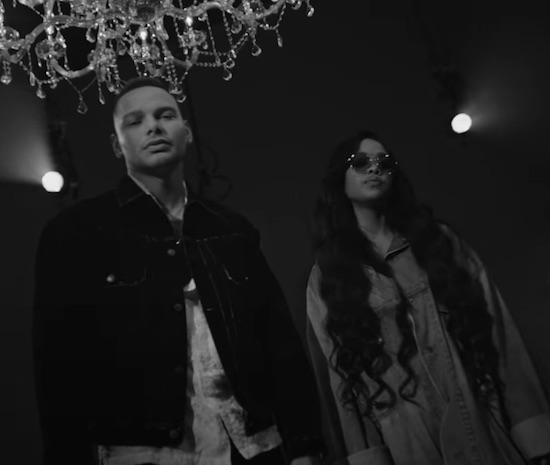 Country soul singer (yes, that's a thing) Kane Brown has upped the ante for his single "Blessed & Free" with a bare-bones video, driving the point home. Featuring everyone's favorite musical chameleon H.E.R. to double-down on the soul and the subtle undertones of brooding sexy, the single's visuals serve to emphasize the shared similarities of these two very different paths crossing.
The Alex Alga-directed, black-and-white video plays with shadows and shades of greys to symbolize multiple things. It could represent the unpretty parts of life, the hidden parts of self, the refusal to be placed in one box or the other or the ambiguous space represented by both singers being bi-racial. Then there are the backgrounds. Simple is too simple of a word to describe it. The deliberate emptiness of the spaces used in the visual play off of the born-alone-die-alone ethos of the song that circles around the expected loneliness of following your own path. With lyrics like, "So I don't count on nothing / Don't ever stop running / I ain't hurting nobody / So just let me be," this is rebel-on-a-motorcycle music meets testifying gospel.
Space isn't only artfully used in the form of backgrounds or the lack thereof. H.E.R. and Brown find themselves near each other throughout different points in the video, but they're never quite together and it's not for lack of chemistry. It actually seems to be purposely done to emphasize the raw chemistry of their duet, instead of pretending to be best buds or lovers. Again, those two different worlds coming together is the theme. It's pretty much the acoustic version of a music video with no plot, no set design, no theatrics.
As Kane Brown continues to bring more guests across genre lines with him, new ears and eyes have opened to the Tennessee tenor's style and message, and he's certainly blazing a new, unprecedented path. That seems pretty "Blessed & Free" to us.
- Advertisement -