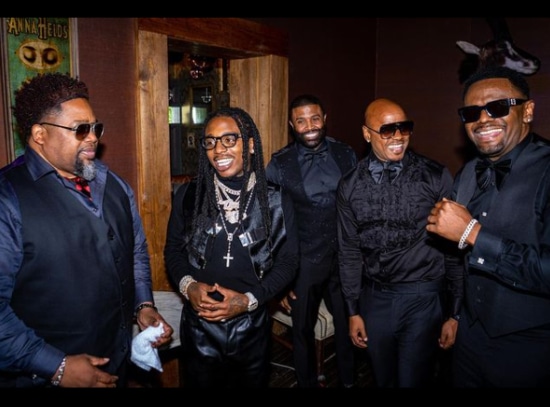 When Grand Puba warned, "What goes around comes back around again," we all knew he was referring to the concept of karma. Now some 30 years later, it seems the same is true for the song "Karma" as well. The Donell Jones single started out as "Karma (Payback)" a smooth send-off to an unfaithful boo, followed by visuals that delivered all the drama. A few months later, RL reached out to Jones with an idea to revisit the track. This resulted in the sizzling slow-banger "Karma (Remix)," featuring the two R&B stars along with fellow crooners Dave Hollister, Carl Thomas and Jacquees. Now the crew is back with a new music video to accompany the remix.
Directed once again by G Visuals, the clip foregoes a storyline this time around. Instead, it takes a page out of the '90s playbook – focusing on close-ups of the soulful quintet as they stunt in dapper clothing, expensive cars and flashy jewelry and puff on fine cigars. Naturally, a bevy of PYT's rounds out the cast as the fellas call them out for their cheating ways. We're not sure if this familiar trope is karma, déjà vu or a little of both. Either way, these brothers are looking sharp and doing their "good, good" singing.
Peep the visuals below and be on the lookout for new music from Jones, Hollister and Thomas as R&B supergroup The Chi.
,