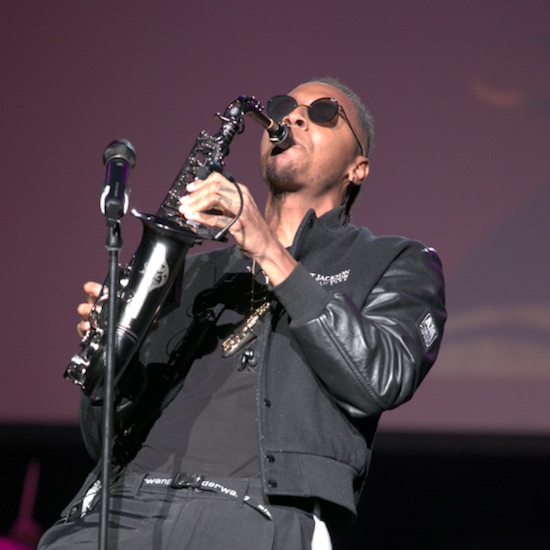 Soul music was now in full effect at this point, making Masego's entrance one that was met with a roar of applause as he capitalized on how Drake's "Champagne Poetry" has breathed new life into his 2017 single "Navajo." Masego instantly used humor and acknowledging the crowd to create rapport, sporting what appeared to be a vintage tour jacket from Janet Jackson's Rhythm Nation Tour and even moonwalking at one point.
Every time his saxophone came out, the clapping and screams ensued on rockstar levels – a victory lap for anyone who was ever clowned for band practice. Masego's blend of confidence and humility highlighted something that would be evident for the entire event, the chance to see each performer's distinct personality and approach to performing.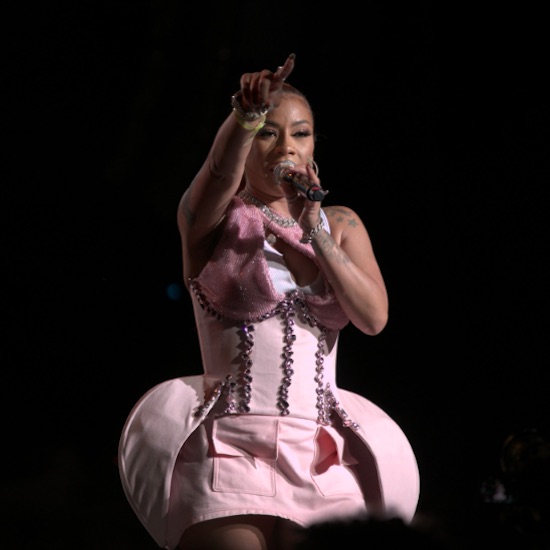 Masego was a much-needed third course since Keyshia Cole was poised to bring her signature no-nonsense attitude and bold aura to the stage. Rocking a pink futuristic corset dress that made Queen Badu's outfit (more on that later) seem normal, Cole ran through all of her uptempo hits with sprinklings of limited dance routines, backed by a quartet of male dancers. In a vulnerable moment, Keyshia shared that this was her first performance since the pandemic (a sentiment echoed afterwards by Ty Dolla $ign) but noted that this was especially significant due to recently losing her mother, Frankie Lons. Addressing the elephant in the room, Cole dedicated "Heaven Sent" and a rendition of Giveon's "Heartbreak Anniversary" to Frankie's memory.
Even when joking, Cole's demeanor made it hard to gauge. At one point she told the crowd to "get hyphy or something" and walked off stage, accusing everyone of not showing enough love. She then came back out to let it be known she was just playing and only used that to sneak a sip of water. With only a very hyped DJ and no background singers, props must be given to Keyshia for hitting each and every note on ballads like crowd-favorite "Love," especially after candidly refusing to even attempt certain notes on the song "Last Night." The Oakland representative shouted out her roots before letting the crowd end the night singing her infamous hook with cellphones aglow in the air.
It was somewhat confusing how and why Ty Dolla $ign was given higher billing than Ms. Cole in her own backyard, but there he was, as the 9 pm hour crept upon all, introducing a light show and MPC playing that seemed to have no real effect. Ty spent 40 minutes acting as little more than his own DJ, running across stage not singing but hyping 30 seconds of every song he has ever taken part in, occasionally stopping to recite one verse of a song, but still leaving out every other sentence for the track to do the work. This, coupled with his insistence upon using the trite concert tool of dropping F-bombs multiple times, was met with mixed results. Those inebriated enough to stay in party mode chanted and swayed to hits like "Paranoid" and Wiz Khalifa's TikTok sensation "Something New," while many who were previously standing found this the perfect time to sit down. Dolla $ign had more tricks up his sleeve, however. He made a wardrobe change, apparently to reflect the Mexican culture of California, and brought out guests Blxst to perform their collab "Chosen" and local star P-Lo, which managed to keep the crowd alive.
- Advertisement -