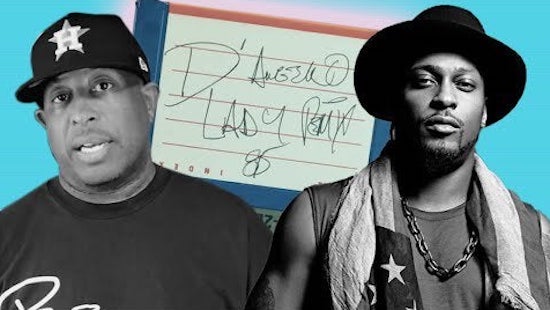 D'Angelo, the King of Neo-Soul (don't debate us), inadvertently helped to launch the genre back in 1995 (before Kedar Massenburg coined the term). And although he has grown to defy and deny any one box or category, he has never shied from paying respect to the fact that at his core, he has always been as much church boy as he has been authentically hip-hop.
If you've ever had the pleasure of hearing the rare audio of D'Angelo replaying and mumble-rapping Gang Starr's "Soliloquy Of Chaos," then you know the hip-hop aspect of Mr. Archer's career has been bolstered by the set of homages and collaborations he has shared with the legendary duo and DJ Premier's contribution to some of his most memorable cuts. It was Preemo who gave us one of the hardest R&B remixes of all time – the "DJ Premier Remix" of D'Angelo's "Lady," which became its official remix in 1996 – boasting the most simple change and slight adjustment that we didn't know we wanted but instantly loved.
On Premier's new YouTube series "So Wassup?" (titled after the Gang Starr song of the same name), he uses episode 8 to walk us through his history with D'Angelo as a labelmate, the inception of the '96 remix and his lingering regret for not being able to make it for the iconic video shoot. Describing his process of attempting to match the feel of the original "Lady" and make it more boom-bap, Preemo is in both teacher and fan mode as he recollects.
Featuring a perfectly-timed rap verse from AZ, "Lady (DJ Premier Remix)" served to solidify both he and D'Angelo in the game after their respective debuts in '95. Speaking of AZ, the visuals for the song –  the stark white set with only a piano and amp and everyone from him, D'Angelo, a then-pregnant Joi, Faith Evans and her daughter Chyna mostly wearing all black with a sprinkling of white – seemed like foreshadowing for the movie Belly. The biggest splash of color came from a then-unknown Erykah Badu, who, we should have taken the hint from the beginning, chooses the unbeaten path.
Just over 25 years after making its own space in the overcrowded golden year for hip-hop and R&B, D'Angelo's "Lady (DJ Premier Remix)" remains a diamond in the rough that still gets played as much as the original (especially among east coast DJs such as Premier) and delivers just enough nostalgia to never feel played out. Maybe just enough to make you want to dust the Timbs off. We're pretty sure D'Angelo never truly hung his up.
- Advertisement -