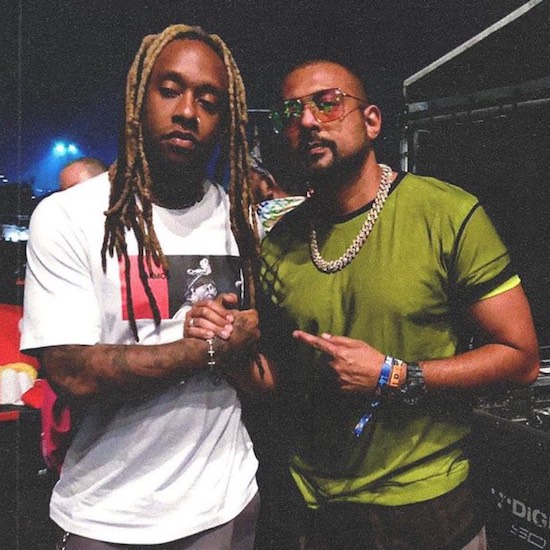 OnlyFans has grown from just a DIY amateur porn site, into a cultural phenomenon. It has proven to be a lucrative hustle for many adult entertainers and even celebrities like Cardi B and Tyga, especially during the pandemic when people made it rain with their stimulus checks on subscriptions. The infamous site has been the subject of a handful of songs over the past year, and now dancehall legend Sean Paul throws his hat into the ring with his latest single "Only Fanz." It should come as no surprise that there's a Ty Dolla $ign feature, but what you may not expect is for the song to be in praise of independent women.
"'Only Fanz' is for all the independent women who know their worth and empowering all the independent women who work hard to make their money," said Sean Paul about the track. "The single also features Ty Dolla $ign, who I respect immensely. It's been amazing to work with him. He was the perfect addition, knocked out his verse in no time and sent it back."
Over a percolating dancehall rhythm filled with bass, heavy percussion and synths, Sean and Ty get the party started while singing the praises of all the boss chicks securing the bag by any means necessary. "She don't work, but I know she work for dat, yeah / She's a flirt for all the gifts and tips and cash, yeah," Sean Paul croons on the chorus in his signature style. For his guest appearance, Ty slides through and matches Sean's energy on the second verse with some clever lyrics. Oddly enough, at no point during the song is OnlyFans even mentioned, but it's made quite apparent in the music video.
The "Only Fanz" visual is a CGI-heavy fantasy. In the clip, Sean Paul is seen browsing through OnlyFans on his mobile device when one of the women pulls him into the screen. Once there, Sean gets an up-close and personal view of all the scantily clad babes he's subscribed to as he hops from one browser window to the next. We get to see a lot of breasts jiggling and butts wiggling in the process, but it actually seems like the ladies are having fun and owning their sexuality instead of just being there for the men's gratification.
Press play below to get an earful and eyeful of Sean Paul and Ty Dolla $ign's "Only Fanz."
- Advertisement -