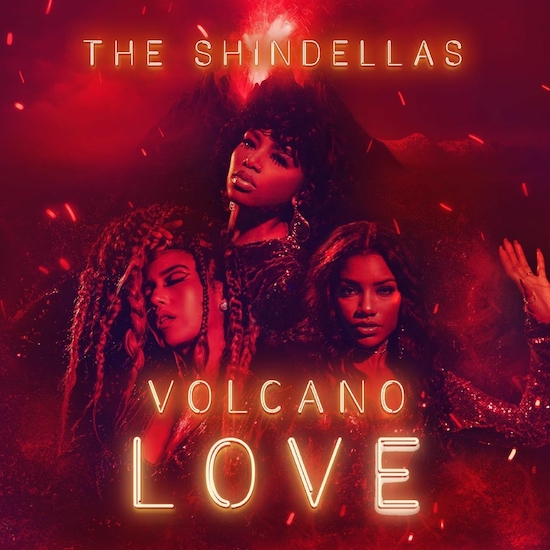 Is it hot in here or it just The Shindellas? Oh, it's definitely The Shindellas who are turning up the heat with their latest single "Volcano Love," written and produced by Chuck Harmony and Claude Kelly, also known as the duo Louis York.
The first ladies of Harmony and Kelly's Weirdo Workshop – Tamara Chauniece, Kasi Jones and Stacy Johnson – take listeners on a soulful and sensual journey that is sure to raise temperatures. Known to be a killer trio of sisters with voices, the journey that The Shindellas take listeners on is straight to the 1990s when R&B girl groups reigned supreme. Groups like SWV, TLC and Xscape had the ability to make hit songs that got the party started and craft timeless slow jams that provided the soundtrack for seduction. On "Volcano Love," The Shindellas do the latter and recapture some of that era's magic with toe-curling results.
"Oh we got that volcano love / It keeps on heating up / At any moment we could erupt / Nothing compares to when we touch / Windows keep steaming up / Yeah we got that volcano love," Tamara, Kasi and Stacy sing on the first verse, their vocals exploding over '90s-inspired production filled with synths, bass and percussion. The Shindellas exhibit a vocal dexterity that puts them in another stratosphere whether they're singing intricate harmonies or something as simple as the word "Ooh," which is repeated throughout the track to sexy effect.
"Volcano Love" has arrived just in time for your post-pandemic, summer-loving soundtracks and activities. Clocking in at 7 minutes in length, the song is long enough to listen to while you swing an episode in the backseat of your Jeep with your shawty. The Shindellas have more hotness where this came from on their forthcoming debut album, Hits That Stick Like Grits, due out later this year.