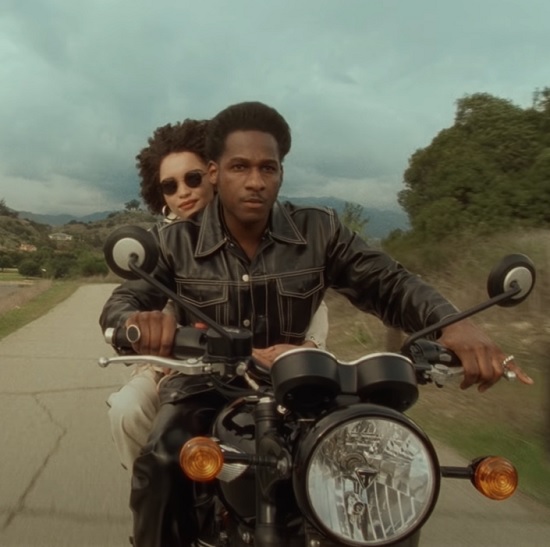 Leon Bridges is one of the people who has been coming through for us during these times of quarantine. So much so that we were starting to wonder if Mr. Bridges had something new coming down the pipeline. That wondering was on the right track, though, as the singer-songwriter has announced that his third album, Gold-Diggers Sound, will arrive this summer. Accompanying that announcement is the release of the set's lead single "Motorbike" and its Anderson .Paak-directed video.
"Motorbike" on its own is an innocent tale of love as Leon plays the classic role of a man courting the object of his affections. The love he sings of over the track's floating guitar melody is one that's been a long time in the making. However he's confident that he can get her to take the ride. "We don't stop, but the time do / Lovers in another life, let me remind you," he sings on the opening verse. "Look back, see me behind you / When it feels good you don't have to try to." The song then comes to life on the chorus as he compares love to speeding down the highway on a motorcycle.
The visual further elaborates on the song's story, opening with a vision of Leon being cradled by leading lady Lexi Carter as they take in the sunset near a lake. The clip then takes us through the story of their love. We see them meet and their affection for each other blossom over the course of the clip's run time. It's all cute and fun until a gun is suddenly introduced toward the conclusion in celebration of their anniversary. We then realize that the couple is actually a young Bonnie and Clyde and what we've been watching is the build-up to a heist. We also see how that heist ends, which completely reframes the video's opening scene (though we won't spoil what happens, of course).
"Motorbike" might be the first new music we're hearing from Gold-Diggers Sound, but it's technically not the first single. That distinction goes to "Sweeter," which was initially released to address the ongoing issue of racism and police brutality. It won't be the only familiar thing you'll hear, though, as the set will also feature Robert Glasper and Ink when it arrives on July 23rd (with pre-orders available now). Get into the stream and video for "Motorbike" when you press play.
Leon Bridges Gold-Diggers Sound tracklist:
- Advertisement -
1. Born Again (feat. Robert Glasper)
2. Motorbike
3. Steam
4. Why Don't You Touch Me
5. Magnolias
6. Gold-Diggers (Junior's Fanfare)
7. Details
8. Sho Nuff
9. Sweeter (feat. Terrace Martin)
10. Don't Worry (feat. Ink)
11. Blue Mesas

- Advertisement -