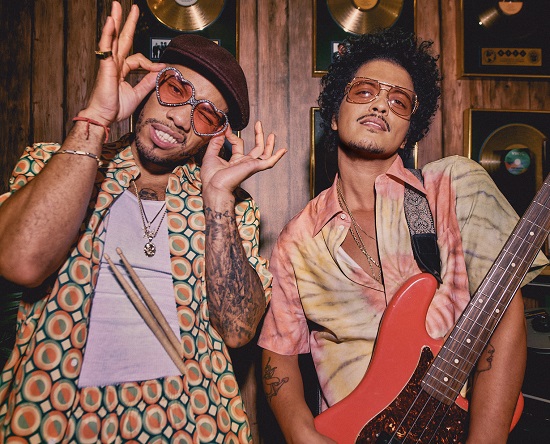 Have you ever wondered what would happen if you combined the hip-hop soul grit of Anderson .Paak with the smooth pop-R&B of Bruno Mars? Well you don't need to wonder any longer. The two stars have come together to form super duo Silk Sonic and have been kind enough to bless us with a proper intro and their lead single (and video!) "Leave The Door Open."
If you were wondering what exactly this combo would sound like, their track "Intro" gives you the perfect preview. The brief introduction shows us that this collaboration will be a throwback to '70s-era soul, complete with horns, a call-and-response cadence and a slick introduction by none other than Bootsy Collins.
The slick number is also the perfect appetizer for the main course that is "Leave The Door Open." The slow jam — co-produced by Bruno and D'Mile — borrows heavily from the likes of Heatwave and The Chi-Lites, with intricate harmonies and tightly arranged drums, strings, guitar and piano creating a comfy and inviting sound bed. As for the official invitation into the groove, Andy and Bruno have that covered, too. AP handles the verses with his usually cheeky demeanor as he sets the scene for a romantic evening that includes "kissin', cuddlin', rose petals in the bath" and so much more. That leaves Bruno to bring it home on the chorus as he promises to leave the door open if his lady wants to slide through for a nighttime rendezvous.
The '70s vibes continue in the song's video, which the fellas stage as a studio recording session attended by some of their biggest fans. Looking like they stepped into a time warp to 1977, the boys and the band crowd together as they lay down the track. Meanwhile, the ladies on the other side of the glass can't get enough. They push forward and lean in while being absolutely enraptured by what they see in front of them.
These tracks are the first taste we're getting from An Evening With Silk Sonic, the duo's upcoming debut. The set will be hosted by Bootsy himself and looks to have more than a few surprises in store. While we wish they would've dropped an official release date with all this goodness, we're more than happy to put these on repeat while they do. Take a listen to "Intro" and "Leave The Door Open" and stay put to watch them take us back to the '70s in the song's visual.
- Advertisement -