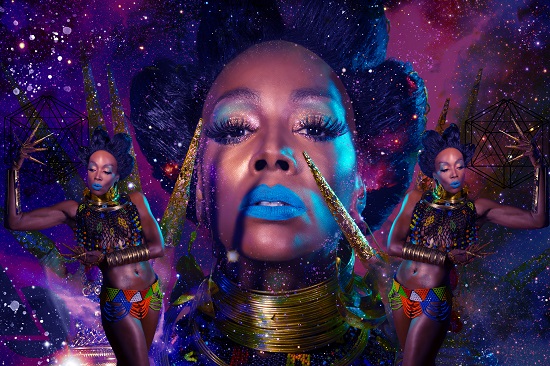 It's a new day, a new dawn and a new life for Sy Smith. That's because the songstress celebrates her birthday today! The timeless Sy is also marking the premiere of the video for her latest groove, "Feeling Good." While those fans lucky enough to watch her premiere the clip during her livestream just moments ago might have already seen it, she's entrusting SoulBounce to bring the clip to the masses with an exclusive first look at the simply beautiful visuals for the track.
The Mike Quain-directed clip finds Sy spreading her feel-good vibes all over the place after doing some housecleaning that clears out all that bad energy. She eventually takes her show on the road while basking in sunlight and positivity. Her vibes are so infectious that they spread to a couple of new friends along her journey. Before we know it, Sy's taking us to the future thanks to some eye-popping set design, amazing makeup and hair by her team of Matthew Brandon and Sir Tony Walk and Afrocentric accessories provided by TruFaceByGrace. While collaborator DominiqueXavier tickles the ivories during this portion, Sy poses it up and looks supremely fierce as she takes us to another world.
It's always easy to be wowed by Sy Smith, but she's really outdone herself this time. A little birdie has told us that she might even have more surprises coming this later this year (hint: they involve Zo!). While you marinate on that, you can peep our exclusive showing of the video when you press play. Then take some time to wish the birthday girl a happy one and make it extra happy by showing some love and buying her music on Bandcamp.