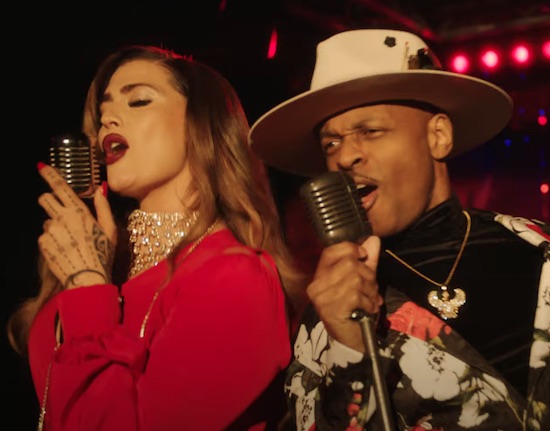 Stokley's sophomore solo album Sankoka has been a couple years in the making, but fans can finally breathe a sigh of relief with the announcement of its official release date. The former Mint Condition frontman will drop Sankofa on April 5th in partnership between his Bluraffe label and Jimmy Jam and Terry Lewis' Flytyme/Perspective Records. Stokley's musical relationship with Jam & Lewis is a match made in heaven and Minneapolis. You can hear some of that world-famous Minneapolis sound that the latter helped to create alongside their former boss Prince on Stok's new single "Cascade."
"Cascade" is a blazing duet between Stokley and The Bonfyre that sounds straight outta the '80s. Written by the duo Shakespeare! and produced by Stokley himself, the song is the perfect blend of R&B, soul and funk. Over a body roll-inducing groove of synths, bass and programmed drums, Stok and The Bonfyre sing about the passion, push and pull of love. "It's not just easy come easy go / It's a waterfall of pure emotion, baby / Hypnotic patterns like kaleidoscopes / Don't let your love wash away / Let your love cascade," they sing in soulful unison on the chorus, their voices complementing each other beautifully.
This perfect pair didn't just join one another on wax, but they link up on screen in the music video for "Cascade" directed by Josh Sikkema. The visual opens in the not-so-distant future with Stokley chilling at his crib in the year 2025. Dr. Bonfyre pays him a visit to administer a special treatment that will erase his memories of his ex so that he can move on with his life. If it were only that simple, though. Throughout the clip, Stokley is triggered (first by an earring and then by an engagement ring) and his memories of the good times – and the bad – come flooding back. In the midst of his wild thoughts are performance scenes of Stok and The Bonfyre killing it on stage. At the end of the video, Dr. Bonfyre's work is done and Stokley finally leaves his house only to run into his ex outside. Does he act the fool or play it cool? You'll have to watch to find out.
Stokley's "Cascade" featuring The Bonfyre will find a home on Sankofa alongside previous singles "She..." and "Vibrant" with Snoop Dogg. Mark April 5th on your calendars and stay tuned for more from Stokley in the coming months.
- Advertisement -