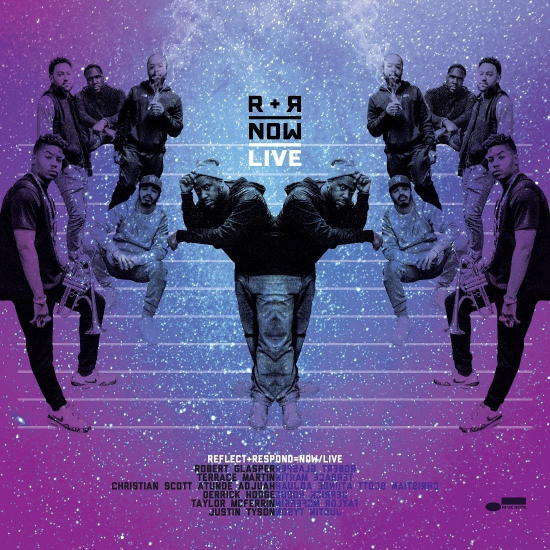 What happens when some of the greatest musicians of this generation come together to cover a song by one of the greatest rappers of this generation? A rhetorical question (because the answer is 'unparalleled dopeness,' obviously), but one that still deserves some exploration. Thankfully, it's not an imaginary scenario, but something that actually took place during a 2018 jam session by supergroup R+R=NOW – a recording of which will soon be released as R+R=NOW Live. And the song in question? None other than Kendrick Lamar's "How Much A Dollar Cost."
A few months after the sextet dropped their debut album Collagically Speaking, Robert Glasper settled into his month-long residency at NYC's Blue Note Jazz Club. During that time, the master of keys was joined on stage by his bandmates for several nights of mind-blowing alchemy – Terrace Martin on synthesizer, vocoder, and alto saxophone; Christian Scott aTunde Adjuah on trumpet; Derrick Hodge on bass; Taylor McFerrin on synthesizer and Justin Tyson on drums.
One of the songs that they recorded on that epic October evening was "How Much A Dollar Cost" (a song that just so happened to be co-written by Martin). Even without Kendrick's pensive lyrics, the group is able to recapture his contemplative journey. But as their instruments ebb and flow with the improvisational tide, we are inspired to revisit the song's themes with fresh perspective.
R+R=NOW Live isn't simply a live version of the album's songs, it's a true concert experience offering new songs like "Perspectives/Postpartum," as well as an extended performance of "Needed You Still" (which, like the original, features spoken word by Omari Hardwick) and an EP-length exploration and re-imagining of "Resting Warrior." After streaming "How Much A Dollar Cost," scroll down to peep the full track list for R+R=NOW Live, then head to your favorite DSP to add the single to your playlist right now.
Additionally, R+R=NOW Live is available for pre-order ahead of the official February 12th release date (with immediate download of the single). If you pre-order via Blue Note, you'll have the added satisfaction of being "first in line," receiving a copy of the album a full week before it's available to the general public.
R+R=NOW Live tracklist:
- Advertisement -
1. Respond (6:01)
2. Been On My Mind (3:32)
3. How Much A Dollar Cost (4:08)
4. Change Of Tone (9:01)
5. Perspectives/Postpartum (11:25)
6. Needed You Still featuring Omari Hardwick (12:38)
7. Resting Warrior (25:21)

- Advertisement -