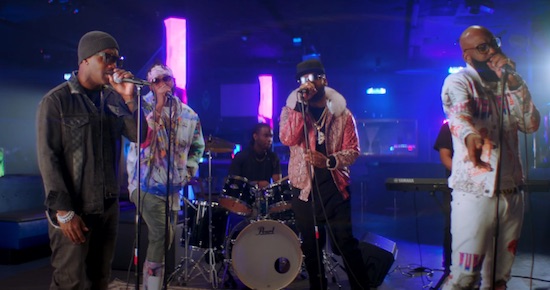 Apologies in relationships come a dime a dozen, and few are received as sincere or heartfelt. However, most apologies don't sound nearly as sweet as when sung by ATL's finest, Jagged Edge. The R&B quartet showcases their signature harmonies in their new single "How To Fix It."
"How To Fix It" is a classic JE  ballad that sees group members Brian Casey, Brandon Casey, Kyle Norman and Richard Wingo trying to get back in the good graces of their lovers. No matter what they do, it seems like the wrong choice, so they're left with just one recourse: ask how they can fix it.
The track is brought to life with a simple video that shows the strain being a performer can be on a relationship. The clip starts with Richard calling up Kyle about rehearsal, which he's already running late for. To make matters worse, the rehearsal is messing up his quality time with his main girl, who's already upset with him for working all the time. The rehearsal moves forward and we get to see JE in their element while their ladies watch from the sidelines with pride, even if Richard's girl ain't all that happy. Stick around to the end of the video to see how our boy makes things right.
"How To Fix It" comes from Jagged Edge's latest album, A Jagged Love Story, their massive 31-track collection that dropped in June. The track follows previous singles "Genie," "Decided" and "Closest Thing To Perfect."