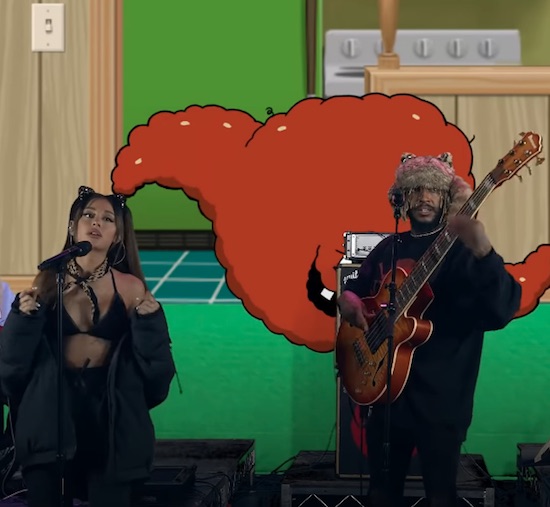 Adult Swim added their annual festival to the countless number of conferences and events that have successfully transitioned to virtual platforms. The Los Angeles-based festival, which kicked off in 2018, recently streamed live exclusively on YouTube over the course of two days and featured an eclectic mix of music and comedic talents, including Kaytranada, Kamasi Washington and Eric Andre.
The event started on a high note with our favorite bass gawd and Dragon Ball Z enthusiast, Thundercat. Singer Ariana Grande joined him onstage for an exclusive performance of his hit that keeps on hitting, "Them Changes." Though the track originally appeared on his 2015 album The Beyond/Where the Giants Roam, it resurfaced as one of the standout tracks on his 2017 album Drunk. Backed by JD Beck and DOMi, Grande added a bit of sweetness to the track, as the two took turns and harmonized on each verse. True to form, the performance sent every one of our senses into a frenzy, complete with Aqua Teen Hunger Force's Meatwad animation on full display in the background.
Though some might view the duet as an unlikely pairing, others will reflect on Grande's 2018 cover of the track during a session on BBC Radio 1 Live Lounge, where she referred to it as one of her favorite songs. In a touching and tender statement following this most recent performance, Thundercat noted, "It feels like Ariana and I are forever connected through Mac (Miller), and this is part of the healing process."
Watch Thundercat and Ariana Grande perform "Them Changes" at the 2020 Adult Swim Festival below. In case you missed it, you can still stream day 1 and day 2 of the full festival.