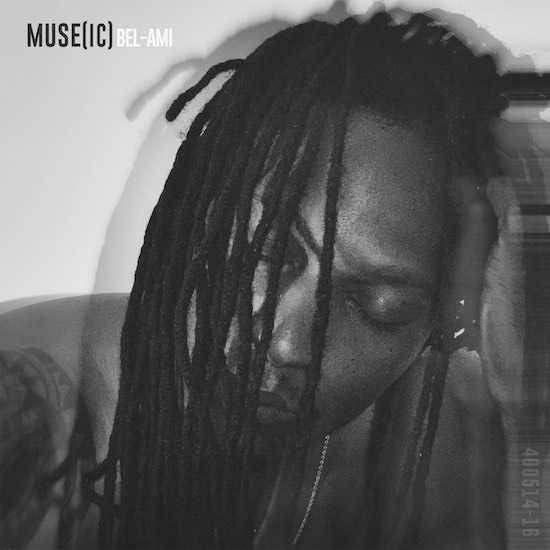 This summer we were introduced to the group Herbivores, made up of a collective of NYC-based artists, by way of their debut EP. Now one of the group members, singer Bel-Ami, is spreading his creative wings with the release of his debut album MUSE(ic), a project that pays homage to his musical muses and combines all of his artistic influences into a soulful gumbo of sound.
Born and raised in Houston, Bel-Ami comes from a family of musicians and singers, who naturally served as his initial inspirations. But one listen to MUSE(ic), and you'll hear the influence of a few neo-soul brothas along the way. Bel-Ami's music sounds like a cocktail comprised of a heavy pour of D'Angelo, two parts Bilal, one part Maxwell, a splash of Eric Benét and a dash of Dwele. Much like these artists, he blends soul with funk and jazz to create a musical melange that while familiar is all his own on MUSE(ic).
The album begins with a prayer spoken by a few different voices on "Intro" that serves as an introit. "Sun-Moon" comes next where Bel-Ami keeps that inspirational tone going as he channels his inner Bilal with an equally impressive range. "Healing" follows where he taps into some D'Angelo-style funk and turns it into a full-fledged jam session over the course of its almost nine-minute runtime. Bel-Ami serenades his lady on "Raindrops" and lets her know that he is no fairweather lover but her man for all seasons. The title track takes you away with a tranquil sound bed of guitar, percussion and flute. Bel wishes an ex well on "Find Love" and gives off serious Eric Benét vocal vibes. The biggest surprise on the album is a funky cover of Sade's "By Your Side," that will stop you in your tracks with the way he's flipped the song. We get some Maxwell Unplugged flavor on "Riding By" before Bel-Ami ends the album with "So Far," a song that speaks to the times we're living in.
Bel-Ami describes MUSE(ic) as "raw and authentic" and his interpretations of his influences are just that. "We created freely and fully, prioritizing expression over arbitrary industry rules, while also paying homage to the greats who have planted these seeds of inspiration in me," he shared about his creative process of making MUSE(ic). "If you appreciate soul music in its truest form, you'll appreciate this album."
We most certainly appreciate what Bel-Ami has done on MUSE(ic) and are delighted to debut the album in a SoulBounce exclusive world premiere before its release. He has crafted an album that brings the past to the present and makes us excited for his future. Be sure to keep up with Bel-Ami's bright future on Facebook, Twitter and Instagram and purchase MUSE(ic) now.
- Advertisement -