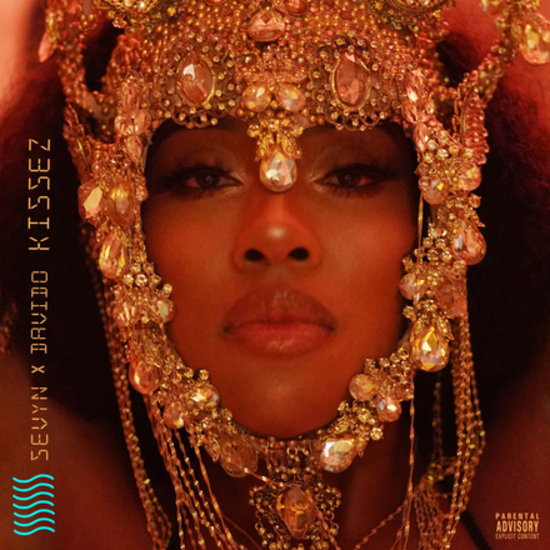 Sevyn Streeter recently returned to our playlists with "HMU," a sexified song about a tryst with an ex that turns into something more. The singer keeps applying pressure with her sultry follow-up "Kissez" featuring DaVido.
"Kissez" couples Sevyn's R&B stylings with an Afrobeats riddim to create a smooth blend of the two genres. Sevyn shares her wild thoughts on the first verse before the Nigerian superstar comes through on the second to add his Auto-Tuned sweet talk to the mix before the singers come together on the chorus and outro. The song has a good groove that you can dance up on bae to, but clocking in at just over two minutes long it feels like it's over before it even starts.
For the "Kissez" music video, we're transported to what appears to be a tropical locale (but it's actualy Hummingbird Temple in Los Angeles) where Sevyn meets back up with her love interest from the "HMU" video. Scenes of crashing waves, a misty sunrise and a lush jungle open the visual while Sevyn contributes a voiceover. We see her man surveying the scenery from a window before a vision of Sevyn appears in his eyes. In the next scene, we see him laying down on Oriental rugs lost in his thoughts. We finally get a glimpse of Sevyn who appears in a pool wearing a shimmering bikini top, her skin is glistening from the moonlight. Once she exits the pool, she breaks out into some slick choreography with a few female dancers who've gathered around on the temple steps. She ventures inside where DaVido delivers his guest verse from a wicker chair while a few dancers twerk and pop it to the song. Sevyn keeps going further into the temple where she sees her love interest sitting in a grand room and performs a special dance just for him.
Sevyn Streeter and DaVido's "Kissez" will appear on her upcoming album Drunken Wordz X Sober Thoughts.
- Advertisement -