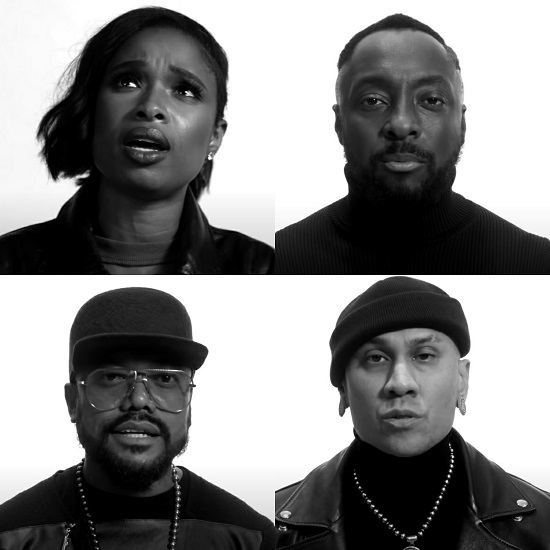 To say we are living in dire times would probably be an understatement. 2020 will be known as the year of COVID-19, but it's also the year that a lot of America's systemic ills were brought to the forefront for the entire world to see. As we face a crucial election that could literally make or break the country, a lot of us are questioning what we can do to make a change. The Black Eyed Peas and Jennifer Hudson have teamed to adapt the Peas' 2003 hit "Where Is The Love," which has been renamed simply "The Love," for a new video addressing the problems plaguing us and the reason we need get out the vote now more than ever.
The video opens with the words of presidential nominee and former Vice President Joe Biden as JHud sets the words of his speech to melody to emphasize his points. The words are mixed with images of protest and workers during the pandemic as well as allusions to the constant problem of police brutality that came to a head this summer. Joining Jennifer and the Peas in their message are fellow musician Becky G and several activists — including Alicia Garza, Ben Crump and the families of George Floyd, Alvin Cole, Philando Castile, Jacob Blake and Breonna Taylor.
"We the people must keep the pressure on public officials, so they hear us loud and clear: murdering Black people, civil rights injustices, DACA kids living in limbo and babies being ripped from the arms of their mothers, disregard for public safety, ignoring science, failing to support small businesses and farms, and unchecked damage to our planet cannot continue," will.i.am said in a statement. "The citizen activists joining us in this video give me hope that positive change is not only possible, it will happen, and collectively we can turn around the breakdown of civil society. This is a Call to Action for every American of voting age to show up safely and vote on, or before November 3rd like your life depends on it."
Jennifer Hudson also shared her thoughts, saying, "We're living in a time where each one of us must raise our voice. That's why it is so important to amplify this call to action. We are voting for so much more than the future leaders of our country, we are voting for the future of our citizens and the justice and rights that are too often taken for granted. This is about the future we'd like to see. It's my hope that every single person who can vote is inspired to make their voice heard."
You can check out the moving video below. And during this election season, make sure to take advantage of early voting in your area to make sure that your voice is heard and your vote is counted.
- Advertisement -