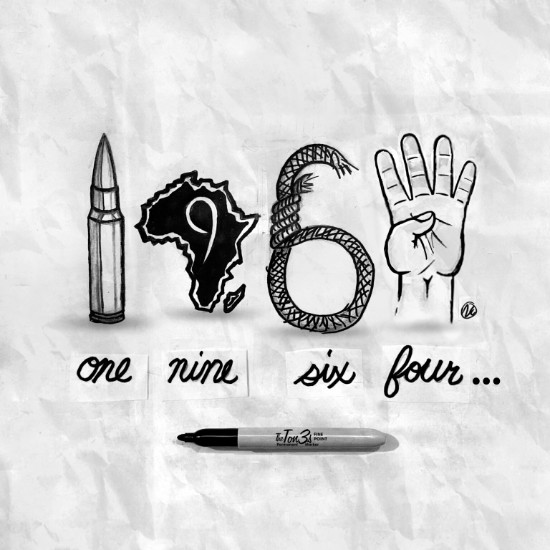 Since stepping out of the background and onto center stage, The Hamiltones consistently raise the bar every time they step into the studio. From romantic jams to gospel collaborations, J. Vito, Tony Lelo and 2E have a knack for making our hearts smile. Their newest EP, 1964, hits a little differently, though – and it's not a bad thing. In fact, it might be their most significant project to date.
As the title hints, the EP commemorates The Civil Rights Act of 1964. The homage to Black History doesn't end there. 1964 is also symbolic because it was released on the same day (August 28th) as two historic events: the horrific, 1955 murder of Emmett Till and Martin Luther King Jr.'s "I Have A Dream" speech in 1963. Via press release, The Tones admit, "We made this album to reflect the current movement and commemorate those that have struggled in this fight for freedom before us. This is our soundtrack."
Upon first listen, it's crystal clear why the trio calls 1964 "Music for the Movement." In addition to compelling themes highlighting past and present injustice, they make a point to showcase the different genres that have soundtracked Black struggle throughout the years. Mid-tempo, throwback soul is the driving force behind opening track, "My Life Matters," a nod to the #BLM movement. Hip Hop beats add an air of militant swag to "The Warning" as Ricco Barrino and Petey Pablo help the fellas put police brutality on blast. The chorus makes powerful use of the final words of George Floyd and Eric Garner.
Bringing to mind Negro spirituals and African-American choral anthems, stirring tribute "Nat Turner (Yours Alone)" is inspirational and breathtaking – for both its beauty and the pain behind it. "I don't want no favors, I just want what is right," the trio sings; taking us to church, southern gospel "quartet" style, with their "Message to America." Afterwards, they give us Stevie Wonder vibes on a delightful, hopeful tune entitled "Imagine." Cookout-ready jam, "Celebrate," closes the album with a nod to Earth, Wind & Fire and the unparalleled beauty of Blackness.
On their own, the songs make a powerful package as the brothas deliver lessons filled with soulful harmonies and undeniable truths. But the EP is also noteworthy for interspersing snippets of poignant speeches by icons like James Baldwin, Congressman John Lewis and Nina Simone.  We're not sure why this album is labelled as "explicit," but regardless of the misnomer, trust when we say 1964 needs to be added to your personal and family playlists right now. Preview the album below, then scroll down to watch the visuals for "Celebrate."
The Hamiltones 1964 [Amazon][Apple Music]
- Advertisement -
- Advertisement -