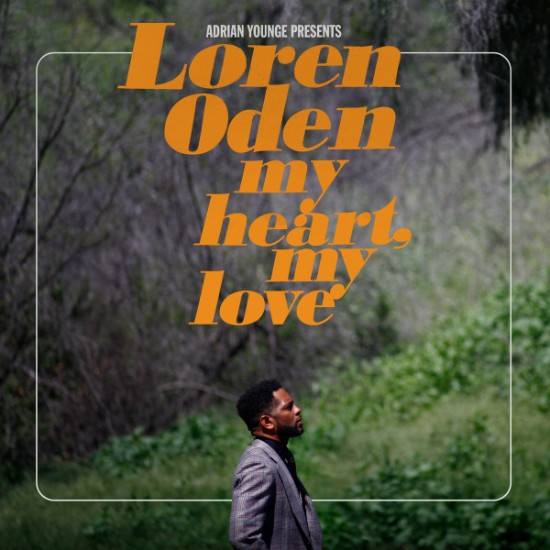 Chances are, you're familiar with Loren Oden's voice, even if his name doesn't quite ring a bell. But those that know, they know. And with the release of his highly-anticipated debut, My Heart, My Love, Mr. Oden won't be hidden under the cloak of anonymity for much longer.
The charismatic singer started out as a background vocalist for the likes of Stevie Wonder, Chaka Khan, Kirk Franklin and Erykah Badu. But for over a decade now, he's worked closely with producer/composer/musician Adrian Younge – providing emotive vocals for soundtracks (i.e. Black Dynamite, Luke Cage), Younge's solo albums (i.e. Something About April II), Linear Labs artists (namely, The Midnight Hour with Ali Shaheed Muhammad) and major tours and performances. So it's only fitting that Adrian served as producer and backed the artist and album on his Linear Labs label.
A hefty collection of 14 tracks and 14 analogous instrumentals, My Heart, My Love is the impressive introduction that Oden deserves. He describes the project as, "a cultivated body of work, for the sophisticated lover, going deep into the guarded emotions we all try to avoid." It's a pretty accurate characterization. Underscored by Younge's cinematic arrangements, the whole thing feels like a love story adapted from the big screen. But from a listener's perspective, we prefer to think of it as a real-life melodic courtship, complete with wooing, romance, seduction, affirmation and devotion. In other words, consider us smitten.
The album has no shortage of highlights, dreamy title track, "My Heart, My Love," and sensual lead single, "Is There A Way," included. "Galaxies" could double as a romantic stepper's groove, and "Addicted" will have you hooked on its disjointed bassline and delayed rhythms. "Shoulders up with your head held to the sky," he admiringly affirms on tribute track, "Queen." Loren's silky vocals and warm harmonies are a whole mood on tracks like "Don't Be," "All Roads" and "Waiting For." Meanwhile, the chemistry between him and British soulstress Estelle on "Matters Of The Heart" is undeniable and a lovely inclusion to the musical narrative before closing out on a high note with "Frequency."
You'll want to stick around for the instrumental versions of each track as Younge puts his skills on display with soaring string arrangements, vintage organ, soulful basslines and moving rhythms. Scroll down to preview My Heart, My Love, currently available for download at major digital retailers. Afterward, keep up with Loren Oden on Twitter and IG.
Adrian Younge Presents Loren Oden My Heart, My Love [Amazon][Apple Music][Bandcamp][Vinyl]
- Advertisement -