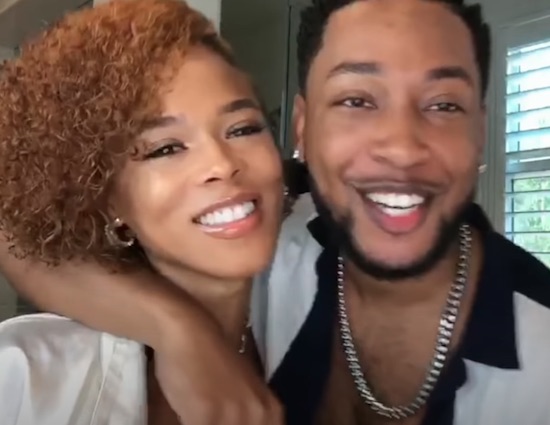 If we were to sit up here and rattle off the list of things that the neverending coronavirus pandemic has canceled, we'd be here all day. But, thankfully, music and love aren't on that long list. If you're amongst the lucky, then you've been able to quarantine with your lover and make some beautiful music together, if you know what we mean. With that in mind, Jacob Latimore gives us an intimate look at what – and whom – he's been doing during the lockdown in the music video for "Real Love, Pt. 2," the remix to his single "Real Love." In the clip, he's joined by fellow singers/actors Trevor Jackson and Rotimi, who co-star with him on the remix, and their respective ladies.
The visual opens with Jacob coming at us live from his bedroom, sitting at the foot of the bed. We soon see that he's not alone, however, as his long-time bae Serayah crawls onto the bed to join him. The super-cute couple does what couples do, loving up on each other from the bedroom to the bathroom. The next verse and scene belong to Trevor who performs solo from his humble abode underneath an ornate chandelier. Last to pull up is Rotimi who serves up some hot sexy on a platter and looks happily boo'd up with his ladyfriend Vanessa Mdee. Toward the end, Trevor comes back to sing the outro while sitting in the dark in front of a raging fireplace. In case you were wondering where exactly his boo may have been hiding, we watch a mystery woman's silhouette take young Trevor down to answer that question.
We got to give up to Jacob Latimore, his friends and everyone's lovers for giving us one of the sexier quarantine-style visuals we've seen. Listen to the original version of "Real Love" and the "Real Love, Pt. 2" remix below before adding both tracks to your after-hours playlists then immerse yourself in the love lives of these young lovebirds in the video.
- Advertisement -