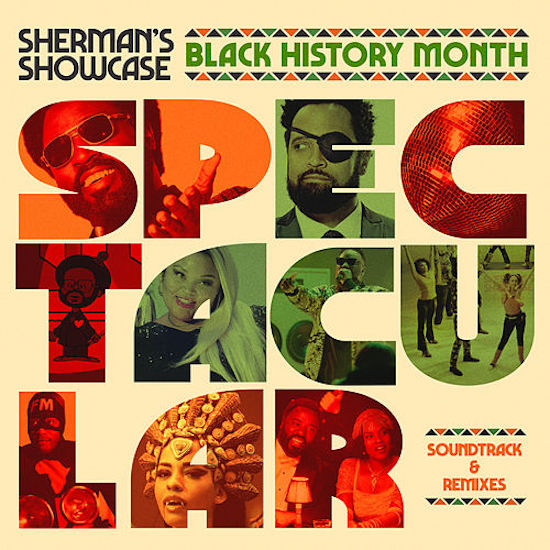 Musical sketch comedy series Sherman's Showcase has been renewed for a second season, but the show will return to our television screens much sooner than that with a very special Black History Month Spectacular premiering tonight on IFC. Yes, we all know that it's not Black History Month, but it's still dropping on a very special day for Black people, Juneteenth, which coincidentally happens during Black Music Month. In the alternate universe of Sherman's Showcase, this all makes perfect sense.
The dangerous minds and musical maestros who brought us the viral hit  "Drop It Low For Jesus" have more hilarity where that came from with music created just for the special ("Add Some Kente") and a few remixes of previously released material, too. The Sherman's Showcase Black History Month Spectacular soundtrack features 15 tracks of tomfoolery, including new jam "Sing Me A Lullabye."
Vic Mensa returns as the character Charade, a thinly veiled take on Prince, for "Sing Me A Lullabye." Phonte Coleman – frontman of The Foreign Exchange, one-half of the duo Little Brother, co-host of Questlove Supreme and honorary Jamaican thanks to his many job titles that would make a character from the In Living Color sketch "Hey Mon" clutch their pearls – wrote the track and also provides background vocals and some amazing ad-libs that flex his vocal range. Over a funk groove inspired by Prince's "Pop Life" produced by Zo!, Vic and Phonte pine for a warm body on the other side of the bed during a sleepless night.
Accompanying the song is a music video with '60s-style animation that combines Prince's whimsical nature with The Beatles' Yellow Submarine-esque imagery. In the visual, Charade and his crew take a trip through a psychedelic landscape, beginning on an Incan pyramid before being transported into outer space. In their multicolored spaceship, they travel the galaxies, passing by suggestive images, like bags of sugar spilling, penis-shaped guns shooting hearts and a kaleidoscope of colors.
If "Sing Me A Lullabye" is any indication of the soulful shenanigans that await on Sherman's Showcase Black History Month Spectacular, our bodies are ready – to laugh! This special edition of Sherman's Showcase airs tonight on both AMC and IFC at 10 pm ET/PT. Peep the "Sing Me A Lullabye" video and preview the soundtrack right here before tuning into all the hijinks later.
- Advertisement -