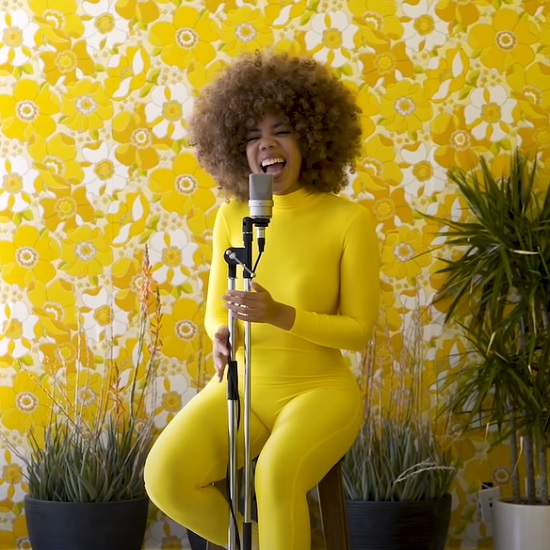 KIRBY kicked off 2020 with her sweet, sassy and soulful debut EP Sis., which was released in January. As we all know, though, Miss Rona came through and changed the trajectory of everyone's plans. One pandemic don't stop no show, though, and KIRBY is seizing every moment that she gets to shine that she can. That includes being one of the most recent artists contributing to NPR Music's newly dubbed Tiny Desk (Home) Concert series.
The singer-songwriter came decked out in her finest mellow lemon yellow for the occasion, wearing a skintight catsuit and a sandy brown fro as she performed select tracts from Sis. She kicked things off with a smile and some "Kool Aid." Just like the titular drink, her acoustic performance of the track was sweet as her honeyed voice let us know just how she can change your life. She followed that up with "Apple," a lovestruck tune that finds her professing her love to the apple of her eye. While stripped of its elaborate production, the song's sentiments are still endearing and proof that KIRBY is indeed the real thing. She closes things out with a performance of "Velvet." But it's not the version that we know, as she's joined by special guest Lucky Daye (who's kind of becoming a Tiny Desk staple at this point) for a remix of the song that turns it to a smooth, sensual duet that feels as exquisite as the material the song's named for.
This new version of the track is actually KIRBY and Lucky's contribution to the recently released Season 4 soundtrack for beloved dramedy Insecure. While we get an idea of how their voices complement each other in the Tiny Desk video, the recorded version is simply entrancing. Their vocals play off one another beautifully and the throwback production transports the track into timeless territory. Get into both the Tiny Desk (Home) Concert and the remix of "Velvet" below and stream the full Insecure Season 4 soundtrack here.