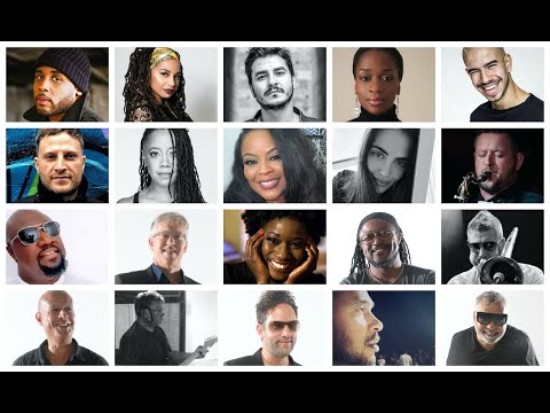 While our world remains divided on many issues, one thing we can all agree on is that our medical workers should be honored with a holiday – the kind that mandates national appreciation/recognition and a day off – for their selfless, tireless efforts during this pandemic. Unfortunately, these things can take years of slicing through bureaucratic red tape before obtaining approval. But in the meantime, musicians like Incognito are finding other ways to show their support.
The band has released a charity single called "We're In This Thing Together" in support of the UK's National Health Service (NHS). In a statement, the band expresses their gratitude by saying, "Thank you to the NHS and to everyone who made it possible for the nation to have the essentials that has allowed us to live!" Proceeds of the song will be donated to NHS Charities Together, which supports NHS staff and volunteers who are caring for COVID-19 patients.
Founder Jean-Paul "Bluey" Maunick organized an Incognito family reunion, calling on members past and present to contribute their unique talents (while still in isolation). Stretching past the seven-minute mark, the feel-good groove features the unmistakable voices of Maysa Leak, Chris Ballin, Imaani, Tony Momrelle, Joy Rose, Debórah Bond, Vanessa Haynes and Megan Khan. Their combined vocals sound wonderful as they sing, "A message of appreciation to the champions across all the nations / The doctors and nurses who more than deserve this / They are heroes every day." The gracious message is set against soulful, vibrant instrumentals by Patrick Clahar (sax), Matt Cooper (keys), Francis Hylton (bass), Sid Gauld (trumpet), Francesco Mendolia (drums), Alistair White (trombone), João Caetano (percussion), Francisco Sales (guitar), Paul Booth (sax) and Richard Bull (bass).
Support this worthy endeavor and add some positive vibes to your playlist by downloading "We're In This Thing Together." You can also donate directly by visiting the NHS Charities Together website. Afterward, keep the Incognito jam session going with Tomorrow's New Dream and Bluey's Tinted Sky.
- Advertisement -