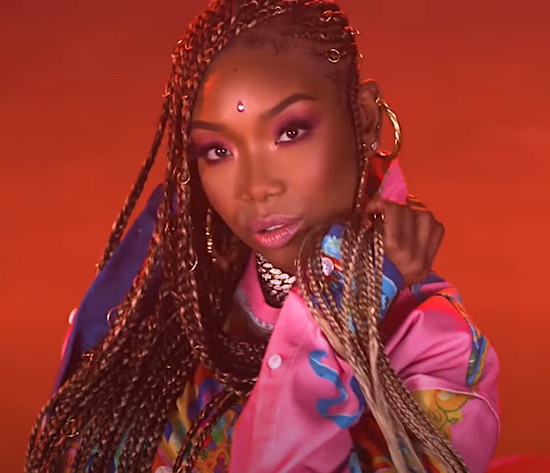 SoulBounce: Hi Brandy! We've been waiting and waiting to talk with you. Thanks for taking the time to talk with us.
Brandy: Oh, yeah. No problem.
SB: Let me just ask first about this. Fans are loving "Baby Mama" and so happy to have you back. How are you feeling about the reception of the song?
B: Everything?
SB: Yeah.
B: I mean, I feel so many different emotions. I'm a little bit overwhelmed because, again, this is a project that I've been working on for a little bit. And to come back with something that I feel is so empowering and is such a great message for mothers, and to team up with Chance the Rapper and Hit-Boy. You know, when you're doing it, you don't know how it's going to turn out. But I'm just so happy that it turned out to be something that I love and something that everybody seems to respond well to. I'm happy to be back, you know? Really happy to be back.
- Advertisement -
SB: And we're glad to have you back. We've been waiting so it's very nice that you're back and coming back in a big way.
B: Thank you. Do you like the song?
- Advertisement -
SB: I love the song, actually. When we got the preview of it, I was like, "Oh, she's coming back like this?!"
B: Yes. [laughs] Good to know.
- Advertisement -
SB: So how did the song come about? What was the process of getting the song together?
B: Well, I had the melody, I had the message because I wanted to do a song talking about my love for my daughter and how she inspires me to be a better person [and] to be an example. And I also wanted to do a song just celebrating mothers. I love motherhood and I love being independent and being that vessel for my daughter to strive to be like. I just thought it would be a great way to have a triumphant song to celebrate women in that way. With the whole "Baby Mama" title, there's a lot of single moms out there who are really doing the best that they can to be that force in their seed's life.
- Advertisement -
So, I met with Hit-Boy and I loved the horns and the beat. It was fitting for my message. And Chance being a family guy [with] morals and just being a great artist, I just thought it would be a great collaboration. So I got with them and it all came about to be what it is today. So I'm excited.
SB: Well, we already peeped the video —
- Advertisement -
B: [excited] I knoooow!
SB: What was it like working with Derek [Blanks] and Frank [Gatson, Jr.] on that concept?
- Advertisement -
B: Oh my God. I had such a great time working with them. I had this vision for a while. Whenever I tell my vision to Frank, he just takes it in and makes it bigger than I can ever imagine and Derek is the same way. So, to work with them, it just felt like my dreams were coming true right there on the spot. And to work with all the dancers that were a part of it and to pay homage to Sammy  Davis Jr.'s "Rhythm Of Life," it just felt like the right thing. I don't know if you could tell, but I look so happy in the video because I was super happy and I was having the time of my life. It didn't even feel like I was on set for 20 hours. It felt right.
SB: You definitely had a glow throughout the video. It was good to see. It reminded me of when we first met you, when you first came out. I was like, "Wow, she's really glowing in this."
- Advertisement -
B: Thank you.
SB: You mentioned that you were inspired by Sammy Davis Jr.'s "Rhythm Of Life." Why'd you pick that particular influence?
- Advertisement -
B: It was actually Frank's idea. When he showed me the footage and how great it was and how colorful it was, I was like, "Oh my God, I can totally feel that." I wanted it to be light and fun and I wanted the colors to represent the celebration of mothers and who we are. Not so serious. Just more light than anything. You know, the dancing inspired by [Bob] Fosse, all the work that I was able to do on Broadway and all the training I did with the dance, I wanted to celebrate that as well. Because, you know, I'm a mom but I like to get my groove on. [laughs] I like to be light on my feet. It was just a good feeling to bring the two worlds together and make it our own but also pay homage to Sammy Davis Jr. It was great. And I trust Frank completely.