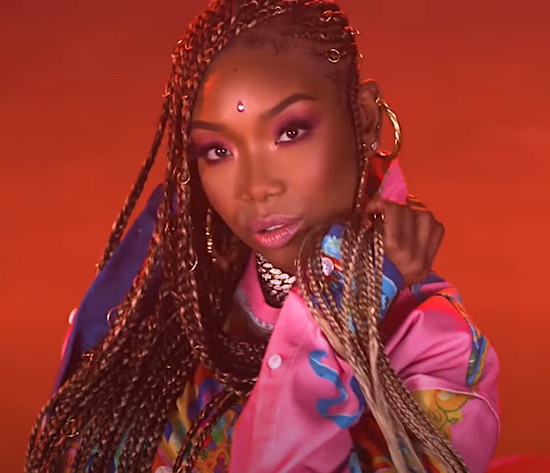 Just last week, Brandy made the first stop on her comeback train with the release of "Baby Mama," the lead single from her as-yet-untitled forthcoming album. The Chance The Rapper-featuring jam was fine enough on its own. Brandy, however, is wasting no time in giving the track more spin with the release of the song's music video.
To accomplish the feat, B-Rocka turns to the visual stylings of photographer/director Derek Blanks and creative director Frank Gatson to bring the track to life. The fellas give her a candy-colored vision of modern femininity mixed with a few other elements that seem slightly odd but somehow still work together. We first see Brandy sashaying onto the scene wearing an oversized plaid suit and wielding a tambourine while stepping with her dancers. The scene in question is a warehouse garage with a few classic cars placed sporadically placed throughout. It's the perfect way to showcase B's ability to bring both the feminine and masculine energy as she gets fun and flirty in certain looks and bold and brash in others. She also takes the time to cut a few steps, something that we've rarely seen her do in recent years. Chance then comes through pushing a classic whip as he spits his knowledge-dropping verse, allowing Brandy to cutely play off his energy as the song comes to a close.
We were already digging "Baby Mama," but we must admit that this video sells the song even more. What's even better is that she's using the video release for a good cause, encouraging fans to donate to Homes For the Holidays — a part of Warwick Warrick Dunn Charities which "partners with affordable housing providers to reduce the financial burden on single parent homeowners by fully furnishing their new house, providing down payment assistance and stocking the pantry with food and other household necessities." You can donate directly through the video's YouTube page or by visiting the charity's website directly.
Check out the video for "Baby Mama" right here when you press play.