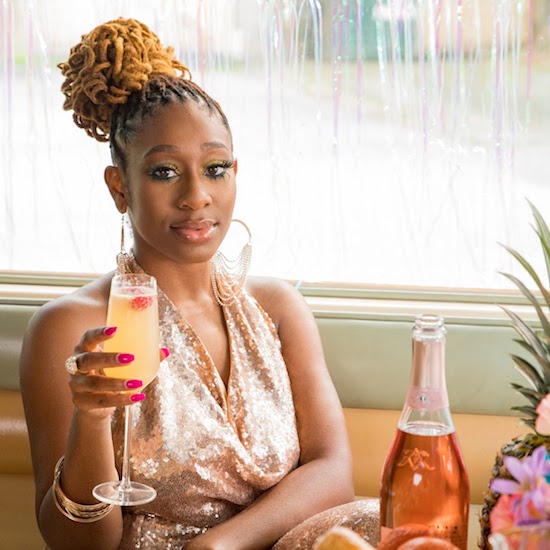 We're diligently practicing social distancing and staying at home #AloneTogether right now, but we're also dreaming of the day when we can once again freely hang out with our family and friends and go shopping, hit the club, attend a concert or eat, drink and be merry at Sunday brunch. While we fantasize about those once regular degular activities that currently seem so far removed from our lives, Atlanta-based singer-songwriter Somalia is right on time with the music video for her single "Mimosa."
On "Mimosa," Somalia is all about the good life – having good times with good people who've got good vibes. "I wanted to write a song that reminded me of all the great memories I've made with friends, drinking mimosas and laughing uncontrollably at Sunday brunch," she shared with us about the infectious bop that she created with production duo DopeNorteria.
Somalia brings that energy to the Andrew J. Lee-directed visual, which is set in your typical, everyday diner. There's nothing typical about the decadent spread of food on her table, however, as she concocts her own adult beverage and beckons all, "Baby mamas on the floor right now / Aunties on the floor right now," to begin the song. Somalia hasn't a care in the world as she sings, "Sippin peach mimosas like I'm on vacay / Won't even dream about my nine to five or what my boss said / Raising my glass in the air who cares if it's Tuesday." She's dressed to the nines in a rose gold sequined jumpsuit and entices a waitress and one of the patrons to let their hair down and dance with her. They happily join Somalia and soon the diner transforms into a club with the trio dressed in sexy new outfits and breaking out into fun choreography. 
"I wanted people to know that even when you're not at Sunday brunch, your everyday life can still be enjoyable and spontaneous," Somalia says about the song and video. In this day and age of attending virtual happy hours, going to Club Quarantine in our living room and finding new ways to entertain ourselves at home every single day, that's a message we can get behind.
Join us in toasting to the good life with Somalia and press play to watch SoulBounce's exclusive world premiere of "Mimosa." Somalia tells us that she is working on more music and focusing on growing her audience. To that end, stay plugged into everything she's got going on via Facebook, Twitter, Instagram, and her own website.
- Advertisement -