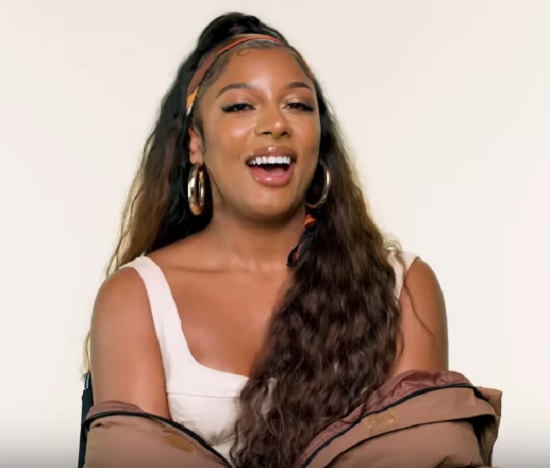 Victoria Monét is getting ready to have a pretty big moment. Oh, and we mean that literally. Her latest single, "Moment," is gaining traction (even earning her a chance to showcase her talents on Jimmy Kimmell Live!) and she'll be bringing us even more when her new album Jaguar drops this spring. As anyone who is on the promotional trail is wont to do these days, Victoria had the pleasure of sitting down with ELLE to take on the challenge of their ever-popular "Song Association" game.
Before starting her round, Victoria gave fair warning that her "memory is kinda mush" so we shouldn't expect her to do amazing at the challenge. The singer came out of the gate swinging, though, when given the word "work." Her choice was Fifth Harmony's "Work From Home" (which she happened to vocal produce). She then kept the momentum going with a few selections from Britney Spears and more than a few songs from her own catalog (including "Moment" and "Little More Time" with Lucky Daye). She was able to get her fair share of matches, however, she burned out on a few obvious ones like "feelings" and "right." Toward the end, she flexed her knowledge of classic R&B cuts, pulling out brief renditions of Heatwave's "Always and Forever" and Sade's "Love Is Stronger Than Pride."
Do you want to know how Victoria Monét stacked up against other artists in the "Song Association" hot seat? You'll have to press play below to find out.