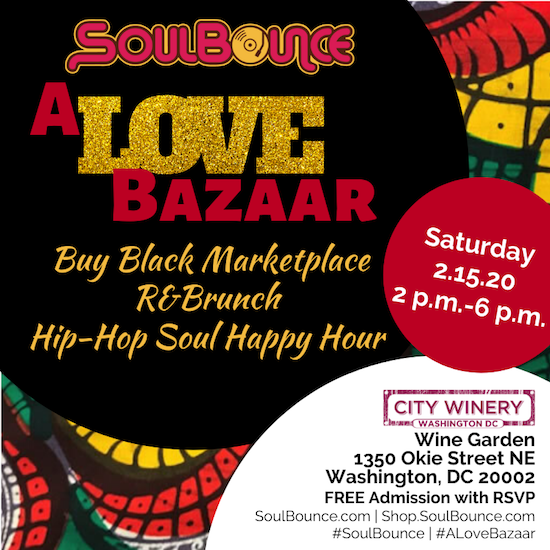 DMV Bouncers are invited to spread a little love and join SoulBounce at our first event at City Winery Washington DC for this new year. We're reprising A Love Bazaar on Saturday, February 15th and remixing it with a Buy Black Marketplace, R&Brunch & Hip-Hop Soul Happy Hour! So after you recover from your Valentine's Day love hangover, pull yourself together, grab bae or gather your crew and meet us at City Winery DC for an afternoon of good music, good food, good drinks and good deals from Black woman-owned businesses.
During A Love Bazaar, SoulBounce will be taking over the Wine Garden on the third floor of City Winery DC between 2 p.m. to 6 p.m. The first half will be dedicated to an R&Brunch where R&B classics, joints and jams will serve as the soundtrack for brunch from City Winery's winter brunch menu. Once brunch is over, we'll segue into a Hip-Hop Soul Happy Hour for the second half of the event with drink specials at the bar. Throughout the day, the Buy Black Marketplace will be open for business with pop-up shops from a variety of local Black woman-owned businesses and artisans with unique items for sale that you can't buy in stores. Of course, Shop @ SoulBounce will be present, and we may even have some new designs on hand for sale.
Admission to A Love Bazaar is free with RSVP on Eventbrite or Facebook. If you're unable to make it to A Love Bazaar on Saturday, February 15th, you'll be glad to know that this will be a monthly event at City Winery Washington DC. If you are able to make it out, we'll see you there and plan to eat, drink, shop and have a dope time.