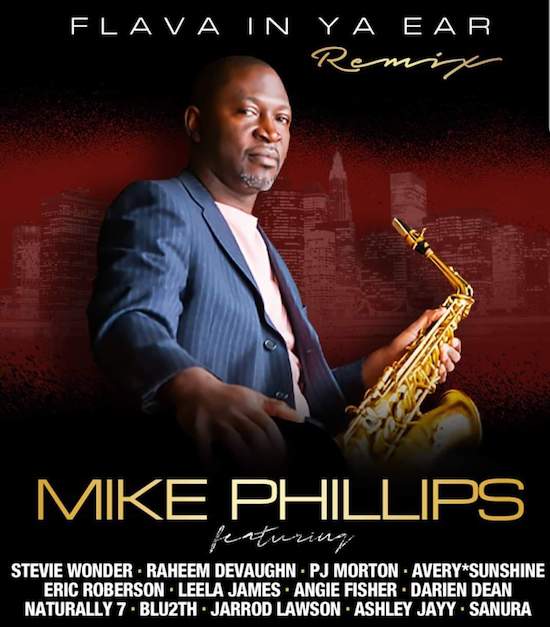 World-renowned saxophonist Mike Phillips called on more than a few of his closest musically-inclined friends – who just so happen to be some of the most talented artists in the industry – to put his spin on a hip-hop classic. His take on Craig Mack's 1994 hit "Flava In Ya Ear" warranted a full-house collaboration that includes the likes of Stevie Wonder, Raheem DeVaughn, PJ Morton, Avery Sunshine, Eric Roberson and Leela James. As if that wasn't enough star power, Angie Fisher, Darien Dean, Naturally 7, Blu2th, Jarrod Lawson, Ashley Jayy and Sanura are also in on the fun, further cementing this stellar, jazzy rendition's place in the books.
Mike Phillips' "Flava In Ya Ear (Remix)" marks the second single from his upcoming fourth solo album entitled, Pulling Off The Covers. He kicked off the roll-out with his exquisite interpretation of Quincy Jones' "Septembro (Brazilian Wedding Song)" featuring Take 6 and Sarah Vaughn. The new project is described as "a collection of favorites reimagined with a style only Mike Phillips can craft." In addition to the long list of heavy-hitters on this latest single, Brian McKnight, Trombone Shorty and Keyon Harrold also lend their talents to the highly-anticipated album.
Give Mike Phillips' refix of "Flava In Your Ear" featuring every-damn-body a listen and see if you can recognize all the voices on the track. Be sure to pre-order Pulling Off The Covers before its January 24th release date. In celebration of the new project, Mike is giving away four pairs of Retro Jordan sneakers to four lucky fans. Head to his website to enter for your chance to win now. New York City SoulBouncers can grab tickets for his album release party at Sugar Bar on January 25th.