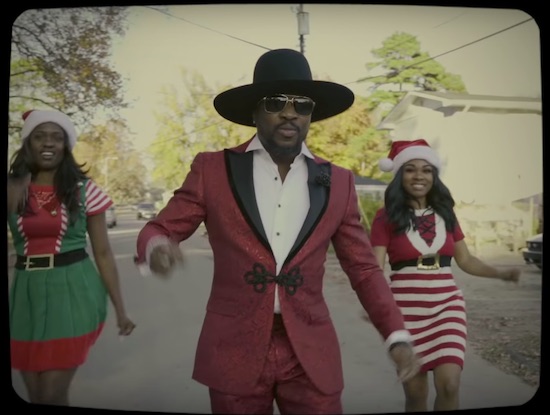 Just in time to get you into the holiday spirit, singer Anthony Hamilton drops the visuals for his remake of the James Brown classic "Santa Claus Go Straight to the Ghetto," taken from his 2014 album Home For The Holidays, and it is the gift that keeps on giving.
In the video, AHam dons his best tailored red suit and becomes the black Santa the hood didn't know it needed as he spreads holiday cheer to the less fortunate. We see him walking down the street, flanked by two backing singers, while giving gifts, money and ice cream to unsuspecting children along the way. In one touching scene, Hamilton sneaks into a house of a struggling mom and leaves enough presents under the tree to make the day a happy one. Between bringing a little joy to the ghetto, he even finds the time to bust a few moves with a leggy companion, proving that Santa isn't just here to put a smile on the faces of the youngins.
There aren't many contemporary vocalists with the grit and soul to capture Brown's 1968 vibe, however, Hamilton has long ago proven himself to be amongst that elite number. Here he effortlessly proves himself once more, staying in the vein of Brown's rendition while also injecting just enough of his own touch to stop it from being a carbon copy. All-in-all, it's a festive addition to this holiday music canon while also serving as a reminder about lending a hand to your fellow man.
"Oftentimes we think that the world's problems are too big to solve," Hamilton said in a statement. "Each of us has the power to shape a person's life. No gift is too small when it comes from the heart."