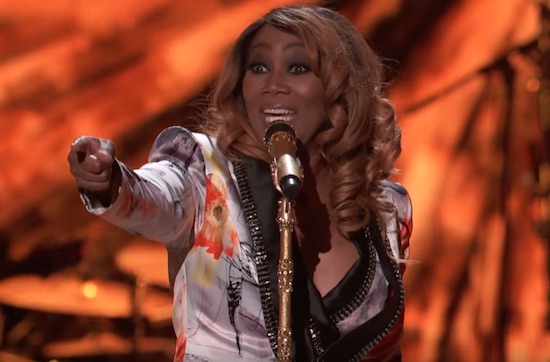 Whether you like your soul music "old school," "new school" or "no school rule," the 2019 Soul Train Awards delivered a little something for everyone. Of course, the celebration wouldn't be complete without some literal music for your soul, and Lady of Soul Award honoree Yolanda Adams shifted the atmosphere with a stirring medley of songs from her anointed catalog.
With a gospel music career that spans over three decades, including a successful radio show and popular book, this award was truly deserved.  After receiving accolades from divas Patti LaBelle and Monica, Legend Award recipients Jimmy Jam & Terry Lewis, and Kirk Franklin (who received the Best Gospel/Inspirational Award that evening), Sister Adams proceeded to minister to the congregation, er, audience, like only she can. It was powerful to see the room filled with hands lifted in praise as celebrities and everyday people sang along to her inspirational set.
The worshipful medley began with GRAMMY-winning song "Victory" before transitioning to "Someone Watching Over You." She continued to uplift the crowd – and unofficially extended the Jam & Lewis tribute – with "Open My Heart" and "Be Blessed." Yolanda's vocals seemed to get better and better (how?!) with each song she sang, but she saved the best for last as a dynamic gospel ensemble joined her onstage for a powerful mash-up of "The Battle Is The Lord's" and Walter Hawkins' classic "In The Midst Of It All." Even after the background singers left the stage, the Spirit was still in the house as the Lady of Soul continued her testimony with a squall and a shout. Amen, somebody!