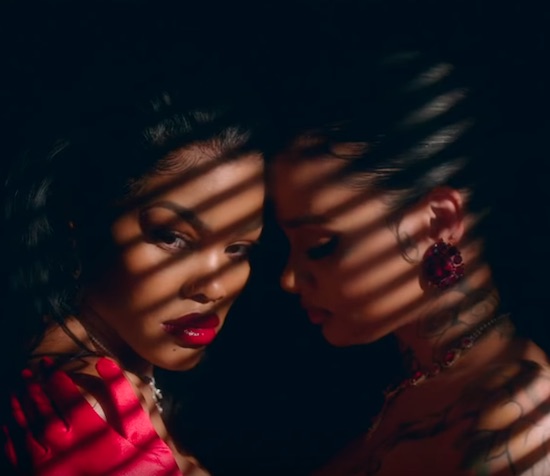 If you weren't happy with the way that Teyana Taylor's last album, K.T.S.E., was handled, you aren't the only one. The "Maybe" singer hasn't held her tongue about the way everything turned out on the set. She's moving on to the next, though, as she readies her upcoming third album which she's simply titling The Album. Our first listen to the set, "HYWI?," was a sexy slice of hip-hop and R&B but she's getting even sexier with her newest single and video "Morning."
"Morning" finds Teyana teaming with fellow songbird Kehlani for a steamy, bedroom-ready slow jam all about sexing your lover until the sun comes up. The whole cut is filled with watery synths, snaps and hi-hats as the two ladies take turns cooing about what they want to do. "I ain't here to play no games / I'm gonna give it to you just how you want it," they sing on the chorus, which bears a passing resemblance to Janet Jackson's "Would You Mind." Teyana wastes no time getting down and dirty on the first verse. "Ain't no limit what I'm pullin' when I f**k on you, babe / Talk that s**t, play with that clit and watch it rain on you, baby," she purrs.
If you think that's sexy, then just wait 'til you see the video. Teyana, who puts on her director's hat once again, turns to the 1998 thriller Wild Things for inspiration as the two play lovers who just can't get enough of each other. They're making out in the dark room, at the pool and just about anywhere else they can get their hands on each other. On top of that, the two have enough natural chemistry to fog up your screens this fine fall morning.
If you're feeling a little sexy on this fine day, we highly suggest you give the track a spin below. And if you're feeling extra frisky then you can also press play on the video.
- Advertisement -