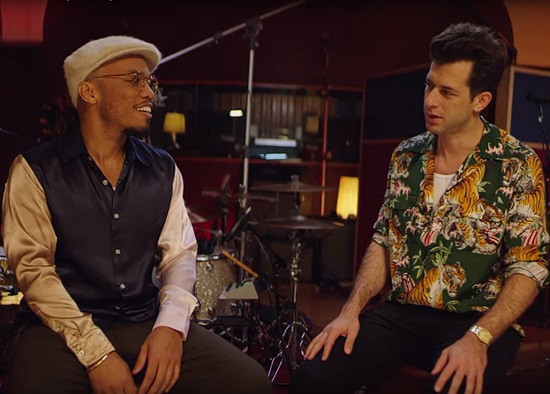 If you've ever wondered what would happen when two of the most sought-after collaborators join forces in the studio, Mark Ronson (Late Night Feelings) and Anderson .Paak (Ventura) are ready to satisfy your curiosity with their new groove "Then There Were Two." Although the song was created for the upcoming animated flick Spies In Disguise, it's got the kind of sophisticated swag that ensures a spot on our playlists before and after the movie's Christmas Day release.
Spies In Disguise follows super spy Lance Sterling (Will Smith) and scientist Walter Beckett (Tom Holland), who are forced to team up after Lance is accidentally transformed into a pigeon. Ronson was tasked with curating the film's soundtrack – a brief, 6-track collection set to hit digital shelves on December 13th. In addition to a new collaboration with Dodgr ("Freak of Nature"), plus fresh songs by Lucky Daye ("Fly") and Lil Jon ("They Gotta Go"), the soundtrack will also feature DJ Shadow/De La Soul head-nodder "Rocket Fuel" (from Shadow's newly-released project, Our Pathetic Age) and hip-hop classic "It Takes Two" by Rob Base and DJ E-Z Rock. (Curiously absent from the tracklist, is the Fresh Prince himself, but we digress.)
While Ronson is at the helm of the overall project, "Then There Were Two" was a synergistic effort with .Paak helping to flesh-out the lyrics and creating the song's rhythm on drums. Once his signature vocals are added to Ronson's laid-back, funk-soul arrangement, the end result has us hoping that they'll team up again in the near future. For now, stream the track below, then scroll down for a glimpse of the artists creating magic in the studio. The song is also featured in a new trailer for Spies in Disguise. Pre-order the soundtrack and get ready for some family fun when the movie hits theaters next month.