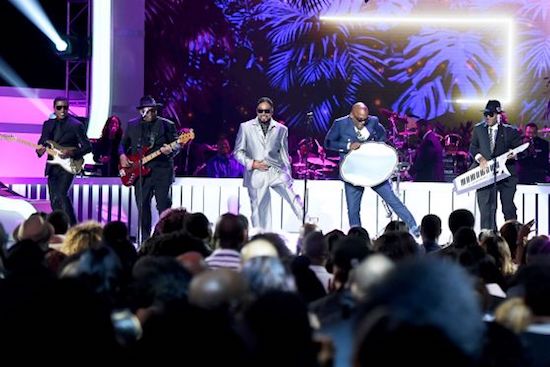 Jimmy Jim and Terry Lewis are arguably the most legendary production team since the '80s, with their illustrious career spanning over three decades. The songwriting super duo has received countless awards and accolades, and last night they were honored with the Legend Award at the 2019 Soul Train Awards ceremony. The award was presented by fellow iconic producer/songwriter and frequent collaborator Kenneth "Babyface" Edmonds and was followed by a moving acceptance speech. However, once the formalities were out of the way, the party truly began.
Rather than sit back and be serenaded with a star-studded celebration of their work, the dynamic duo showed us all that they still have it and took to the stage to participate in their own tribute performance. The Sounds of Blackness kicked things off (with Ann Nesby shamelessly clearing her pipes throughout the entire set), followed by the S.O.S. Band performing their classics "Just Be Good to Me" and "Tell Me If You Still Care." The energy in the room steadily increased as Cherrelle and Alexander O'Neal performed their 1985 hit "Saturday Love" and hit a rousing crescendo once Minneapolis-own's Morris Day hit the stage for a mini-reunion of The Time. Adorned in silver suit, Morris made quite an entrance with his wingman Jerome Benton nearby with his mirror in tow. We were treated to a bit of "Jungle Love" and "The Bird" before Morris let the crowd know "it's the last call for alcohol." The vibrant performance was topped off with glimpses of our favorite celebrities funking it up along with the legendary band. For some, this iconic finale took us back to a truly great and memorable time in music while it likely sent the younger generation straight to Google. Regardless, this year's Legend Award performance will go down as one of the greatest.
Move the furniture out of the way and revisit the 2019 Soul Train Awards tribute performance to Jimmy Jam and Terry Lewis.